KOMAZAWA 3 CHOME GUITAR AND LANGUAGE SCHOOL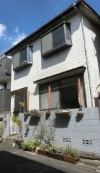 is a small school run by Bix&Marki in Setagaya-ku, Tokyo.   Guitar lessons in French, English and Japanese, also ukulele lessons.

French, English, Italian, Norwegian and Japanese language lessons !
Online courses start in May,2020.
Please contact : bix1@hotmail.com
Welcome!
Bix (Beatrix) and Marki (Mamoru), a European-Japanese couple of professionals in the field of music and language-teaching, have set up their school at in Komazawa, Setagaya-ku, 8min walk from Sakura-shinmachi station and 15min walk from Komazawa-Daigaku stations (Tokyu Den-en-toshi line).
Marki gives folk, pop, rock and jazz guitar lessons in English, French or Japanese. He specializes in jazz improvisation(contemporary and standard) and could give you ideas of musical arrangement and composition.
Bix is a musician and linguist, as well as a painter. She sings and plays the flute. She speaks French, Italian, English and Norwegian as well as Japanese.

If you wish to learn or brush up or are interested in developing your language or musical skills, please call us or send an email for a trial lesson!


Lesson fees
The lessons are given as private lessons or as group lessons
Guitar Course
No registration fee.
Monthly fee: ¥12000 (4 times a month / 1 hour private lesson)
If you would like to do a group lesson, the price can be adjusted to the number of members, preferably not more than 3 people.
for example in a group of two people each one pays : ¥6000
or if you come twice a month : ¥6000
You could also have a two hours lesson : ¥6000
or a 30min lesson : ¥1500
If you don't come regularly, it's also possible to pay each time : ¥3000 / hour

Language course
No registration fee.
Monthly fee: ¥12000 (4 times a month / 1 hour private lesson)
If you would like to do a group lesson, the price can be adjusted to the number of members; preferably not more than 3 people
for example in a group of two people each one pays : ¥6000
or if you come twice a month : ¥6000
Lesson Hours
Guitar Course&Language Course
Every day from 9am to 10 pm
In the case we have a concert we might sometimes change the date & time
For the time and date of the lesson please contact us by phone or email

080 4165 3659 : Guitar Lesson
080 4166 3659 : Language Lesson
bix1@hotmail.com