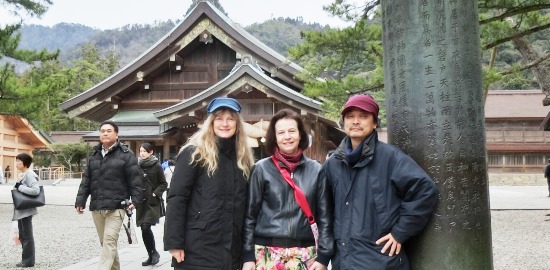 Bix & Marki Spring 2016 Tour Report
We were with Aliette Javary (a childhood friend of Bix's from Junior High School near Paris) started on the 11th of March. Aliette was going to be in charge of taking pictures and of writing the Tour Report in French. We took the Shinkansen (bullet train) in the evening and slept in Osaka the first night. We left the next morning for Shimane Prefecture and played in Matsue and Izumo. Then in Tokuyama, Imabari and Uchiko on the island of Shikoku, then Ooita, Saga, Oomuta and Kagoshima on the island of Kyushu.
Saturday 12 March 2016  Sugata-kaikan Hall 
Shimane-ken Matsue-shi Sugata-cho 21-2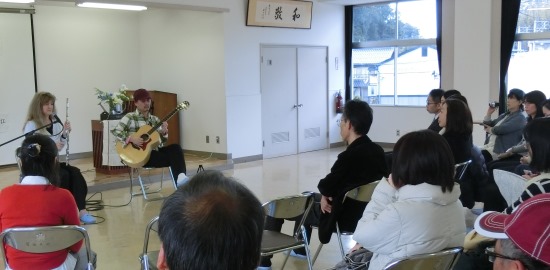 Leaving early in the morning we took the Shinkansen to Okayama and changed to the express train Yakumo to Matsue. We were greeted by the director of the Cultural Exchange Organisation Esperanza who brought us kindly to have lunch with the members, in the same building where we were going to play in the afternoon. We sat around in a circle with all the volunteers who had prepared exquisite food. Everyone introduced himself. The hall was decorated with our names, flowers and flags… Aliette did some French teaching in between songs. We had coffee again with the audience after the concert, in the tatami room downstairs. Thank you so much for the kind welcome in Matsue !!! We loved it.
Sunday 13 March 2016  Kinrou-kaikan Home
Shimane-ken Izumo-shi Imaichi-cho Kitahon-machi 1-7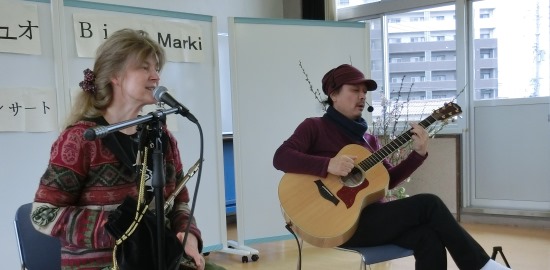 We saw the beautiful Izumo Taisha shrine in the morning and heard about the ancient fairy tales from Izumo: we were then brought by the director of Esperanza to the room in the City Hall where we were going to give a French course. It went fine ! Aliette, Mrs.Tanaka and Bix did a course together for 7 people of all levels. We then played in a nicely decorated hall–with a buffet, crepes and drinks...for a wonderful audience, adults and children. It was a great pleasure to be able to speak about our songs and art, and answer questions. It was the first time for us to play in Izumo but certainly not the last... Thank you so much, Esperanza, and all of you !
Monday 14 March 2016  Cinema PARANOIA
Yamaguchi-ken Syunan-shi Shinmachi 2-29 PH Bld 2F
Tel 0834 21 2435   http://www.ccsnet.ne.jp/~cap.banana/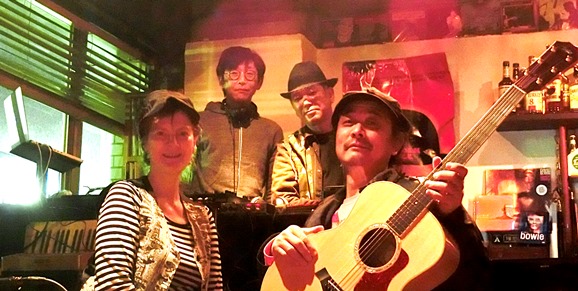 There were very few people in the streets of Tokuyama, even fewer in Cinema Paranoia… but we enjoyed the evening listening to French songs prepared by the DJ. How can musicians and others bring more life to small towns… maybe the shopping arcades could create more events to bring more people back… it is something to be thought about...
Tuesday 15 March 2016  Le Puy
Ehime-ken Imabari-shi Sakaemachi 1-2-3 2F   Tel 0898 33 2623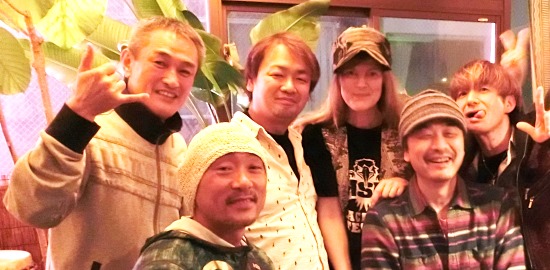 This was our second time at Le Puy in Imabari. Aliette and Bix went to see the beautiful castle surrounded by sea water and then we played doing sets alternatively with the local musicians, Jiro and Shinji. Le Puy was full of joyous people, great atmosphere, fantastic food... Thank you for this wonderful evening, Le Puy and you all !!
Wednesday 16 March 2016   KANADE
Ehime-ken Kita-gun Uchiko-cho Uchiko 1914   Tel 0893-44-7527
https://www.facebook.com/kanade2014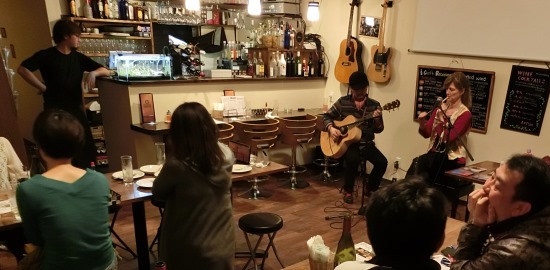 Uchiko is a small town with old traditional houses, and where the town itself is protecting its old culture. We walked around the beautiful town and stayed in a peaceful and fantastic Japanese old house, the Takahashi-Tei. In the evening, we played for and with a great audience. Kanade's owner is himself a musician and created the bar and café for musicians to play! Uchiko was a wonderful discovery, and we will certainly be back...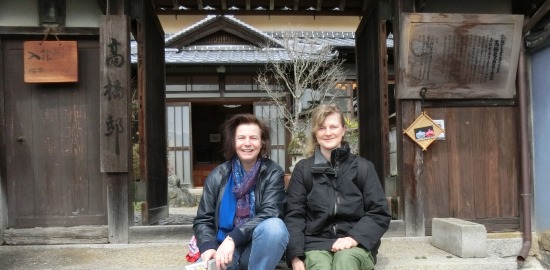 This is the entrance of the Takahashi-tei where we stayed. Their Japanise style breakfast was delicious!
Tuesday 17 March 2016   Tully's Coffee (Ooita-cyuou-shop)
Ooita-shi Cyuou-ku Ni-cyome 5-3   Tel 097-548-5001
Facebook  https://www.facebook.com/TullysCoffeeoita
Twitter  https://twitter.com/tullysoita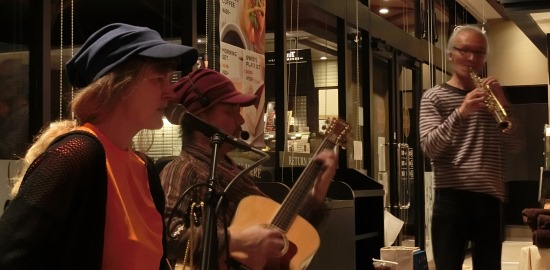 Tully's changes into a concert place in the evening and it was our second time there... We met again sax player Salmosax who had played in Brussels at the BLA (Brussels Language Activities, the school we founded in Brussels) 10 years ago. We improvised a song with him. There were few people, but it was a nice evening ! Live concerts seem rare in Ooita, but musicians have to go on! How to do to bring life to smaller towns, and how to make music a link between people.
Friday 18 March 2016  Café Brassens
Saga-shi Gofuku Motomachi 2-24 north side of 656 Hiroba  
Tel 0952 97 9378   https://www.facebook.com/cafebrassens


Warmhearted Café Brassens ! Bix and Aliette gave a French course for some people before the concert. Bix&Marki then played, surrounded by books, drawings, plants...we felt at home, it was our 5th concert there ! Sweet city of Saga. Thank you so much to all of you there. See you soon again. We love Saga !and Café Brassens ! And all of you there.
Saturday afternoon 19 March 2016  Cafe de OLiVE
Fukuoka-ken Oomuta-shi Shinsakae-machi 1-1 1F  Tel 0944-54-8950
https://www.facebook.com/cafedeolive725/timeline
http://cafedeolive.wix.com/cafe-de-olive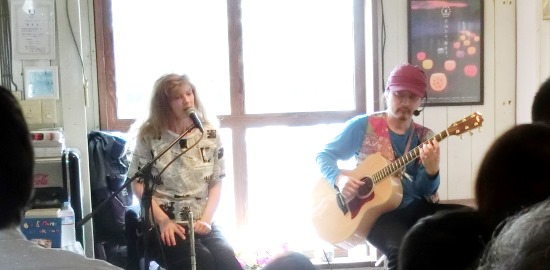 The first concert on that day was in Café de Olive with mums and kids... the owners of the café are trying to make the city of Oomuta revive, organizing food, social and artistic workshops in their place. Oomuta used to be a thriving mining city until the 60s, but has become less and less populated, with stores closing down and little attraction for tourists. Now some people who have even come back to Oomuta would like more artists to come and do creative works there ! They were sooo nice to us. Thank you !!!! We will be back, and will tell everyone we know about Oomuta. Let's think of what to do there !
Saturday night 19 March 2016  Kyu-Mitsui-Minato Club
Fukuoka-ken Oomuta-shi Nishi minato-machi 2-6 1F
Tel 0944-51-3710   http://www.minato-club.co.jp/index.html
Office TK : http://www.facebook.com/officeTK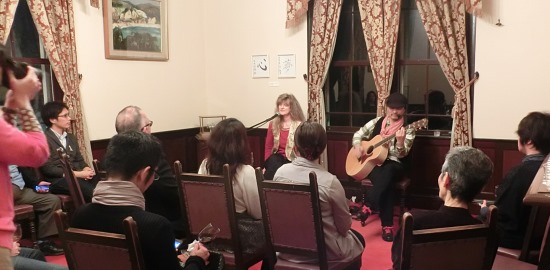 In the evening, after visiting and hearing a lot about the town and its history, we played in the Minato-club house. A gorgeous western old style restaurant and activity center... and a cultural treasure in the city. The concert and wine party was organized by Office TK, which also works on promoting new activities in Oomuta. It was fantastic. We all sang a superfamous song in Japan, which is actually about and made in Oomuta: the Tankou Bushi song. We didn't know it was from Oomuta !
Sunday 20 March 2016 Brasserie Vendange
Kagoshima-shi Higashi Sengoku-cho 2-38 Fukuzonoen bld 1F  
Tel 099 226 2729   http://br-vendange.com/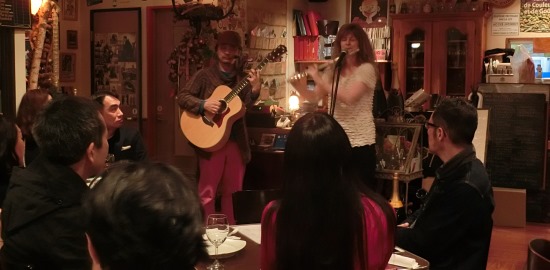 Brasserie Vendange was full with people...even more than the 2 last times we had played there. They had organized an aperitif–event (wine & cheese & live concert). Bix did a French course before the concert, for the first time here, for 7 people. She would like to do it again next time too ! It was Bix's birthday, and Vendange gave her a birthday present... She was very happy, thank you so much... After the concert, we went to have a very delicious galette, cheese & wine at La Fromagerie Charlemagne. Great Kagoshima. Thank you all !
Monday 21 March 2016  On the Meimontaiyo Ferryboat
From Shin Moji port to Osaka South port : departure at 19:50
http://www.cityline.co.jp/index.html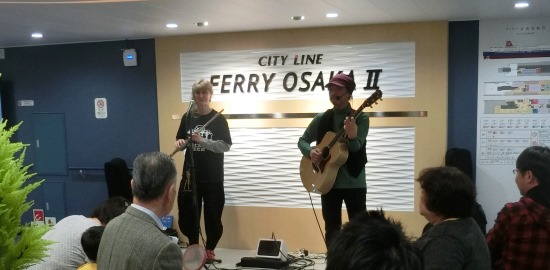 The next morning, we took a bath in a hot spring downtown, and then the train to Mojiko. From there we took the ferry boat which was going to bring us to Osaka. Bix&Marki would head back to Tokyo, Aliette would visit Kyoto. On the ferry, which was a new boat compared to the others we had taken before, we played in the lobby. It was pleasant and we even got to know a gentleman from Nagoya who bought all of our 5 CDs. We had a last drink (the Champagne Bix had received as a birthday present the day before) with him, all together, to celebrate the end of the tour. The night went smoothly and well on the ferry, on the peaceful Setonaikai (the Seto Inland Sea, full of beautiful islands).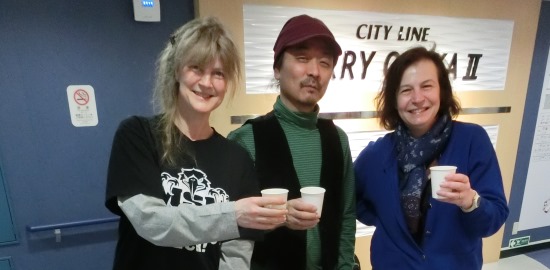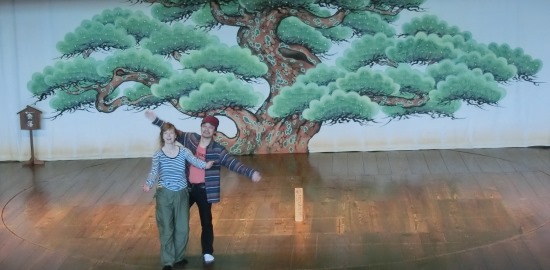 It was a compact 10 day tour with 11 concerts, together with Aliette for whom it was the first time to come to Japan. Everything went well. Everyone was so kind to us. We and our music were fed spiritually ! We noticed more this time the real effort some put in making small towns revive. The importance of art, artistic energy, music to link people together, of entrepreneurship and start-up creative work in places that people have left for bigger towns and work opportunities. We would like to tell everyone that there is not only Tokyo and Kyoto in Japan, or Hiroshima and Sapporo, but small treasures waiting for tourists and new energies out there... let's think what to do, and it is not only a Japanese thing. It is the same in the world, small towns vs. big cities. This tour was great ! Thank you for reading us and following us, and to all the people we met.

14. Spring Tour 2016