Bix & Marki Spring 2020 Tour Report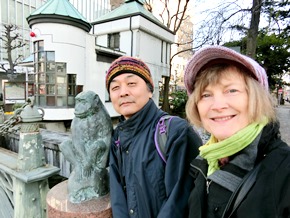 Our tour was organized before the virus started invading the world, and we were wondering … should we stay or should we go? Finally, we left the decision to the owners of the venues, because the tours are not only about us, but also about the places where we play and people. Music is our life and we must continue but have to find the way. We left Tokyo on the 13th of March, headed for Okayama, Shikoku and Kyushu. Of course we had agreed that if symptoms occurred on either side, we would cancel the concert immediately. The trains were almost empty and the weather was basically beautiful. Thank you soo much to the organizers and to the people who came to the concerts, all the beautiful people who supported and trusted us.

Here is the funniest and most interesting police station in Japan, behind us next to a small river down-town Okayama, on our first day in the city and the first day of the tour.
Saturday 14 March 2020 Naturellement
Okayama-shi kita-ku Honmachi 8-15 Honmachi Plaza bld. 1F
Tel 086-226-8341   https://prevenant.jp/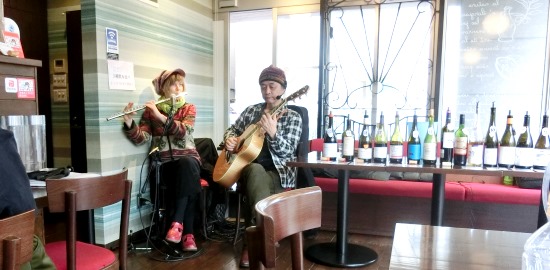 We played in between two wine-tasting sessions in this organic wine restaurant. People joined in, little by little, the doors were all wide open to give fresh air, it is raining outside. Some people in the audience told us that they were very happy to come and listen to us in these dark times of self-confinement. Thank you so much to Mr. and Ms. Nishimoto who put us in contact with the restaurant, and welcomed us in their home. We talked together about nature, biodiversity, plants (their specialty), the virus, the power of vegetables and fruit to strengthen the immune system, about art and music, food for the soul.
Sunday 15 March 2020   Kuu Shokudou
Ehime-ken Shikoku Cyuou-shi Mishima miyagawa 2-2-33  
Tel 0896-24-6269   https://kuushilyokudou.jimdo.com/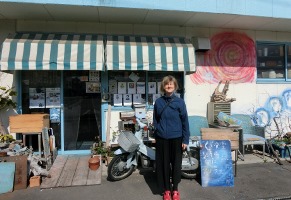 We arrived on the island of Shikoku and to Kuu's restaurant-atelier.
We know her very well now, and take our hat off to her for contributing to revive the social and artistic aspects in this city, where most of the population left some years ago to go to big towns.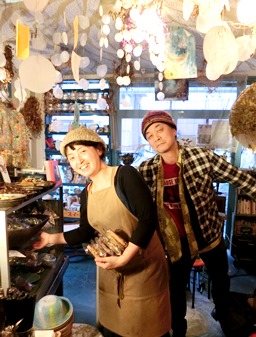 Kuuchan wondered if she should have events during the corona period or not. She is an artist herself, believes that her and our work is to keep spirits up in bad times. She also needs to survive financially (there is no aid from anyone so far). She told us that she decided to keep the place open, although some people in the neighborhood were against it. Tough times but we support her and she supports us. For overseas readers, there is no complete lockdown in Japan for the moment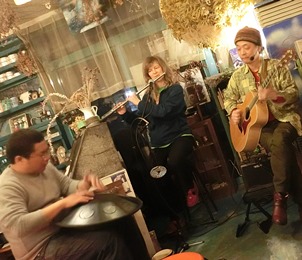 A client musician of Kuu's café accompanied us on his 'handpan', which turns out to have a wide range of vibrations and a sense of ethnic feeling that fits our songs perfectly. We were very happy to play together with him, Mr.Oda. Two other people come, one of them a farmer. Fantastic evening, being together and discussing about vegetables, agriculture, health, music and art, with a sanitary distance between each other, of course.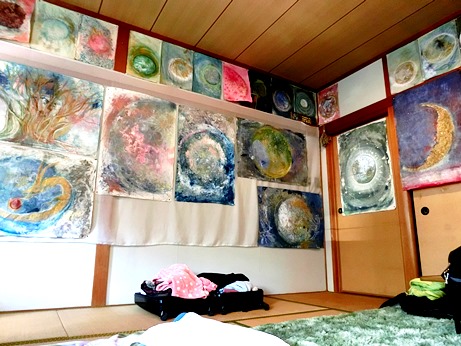 As independent artists without support we all have to be inventive, and Kuu makes her own recipes, food, and events. This is the room upstairs where we slept that night, with Kuu's beautiful paintings on rice paper.




Snowy mountains of Shikoku: Winter ends and Spring begins.
Monday 16 March 2020  Le Puy
Ehime-ken Imabari-shi Kogane-cho 1-5-15   Tel 0898 33 2623


Le Puy where we always play when we come to Imabari had just moved to a new place. This was the first time we played here and the audience-customers were already there when we arrived. One of the ladies said that this evening reminded her of what she had seen on TV, Italian musicians playing for others in this time of confinement. She said she needed the music, because she was alone all day at home.
Tuesday 17 March 2020  Cafe & bar KANADE
Ehime-ken Kita-gun Uchiko-cho Uchiko 1914   Tel 0893-44-7527
https://www.facebook.com/kanade2014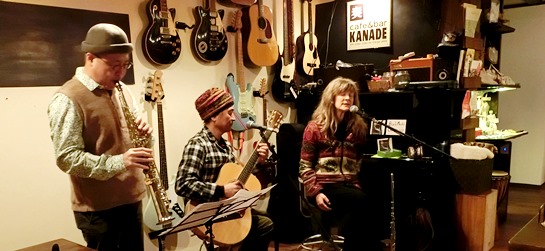 We rented again the same beautiful little house, which usually is used by pilgrims of the 88 Shikoku temples. The owner of Kanade was happy to see our small audience coming, and we had a great session together with Mr. Tamai, the saxophonist (soprano sax). Mr Tamai had rehearsed two pieces of ours and gave a special jazzy touch to our songs. There is a huge economical difficulty for restaurant and café owners in Japan too, as in the rest of the world.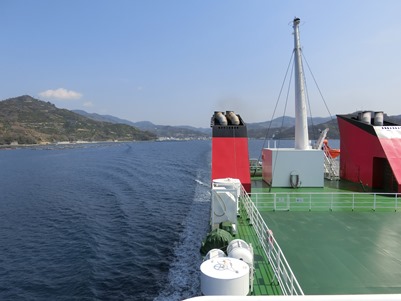 We took the ferry boat to go to Kyushu, one more concert to play. The sea was beautiful and calm.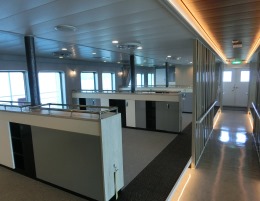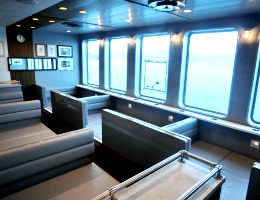 The ferry was so empty that we wondered if the boat company would not go bankrupt, the corona will definitely bring an economic crash. Is it a sign from nature that we all have to slow down? The little trip on the sea was absolutely magnificent. We did stretching exercises and slept well during the trip.


Wednesday 18 March 2020  Tubby's cafe
Ooita-ken Usuki-shi Suehiro 3116   Tel 0972-83-5251
Facebook https://www.facebook.com/tubbyscafe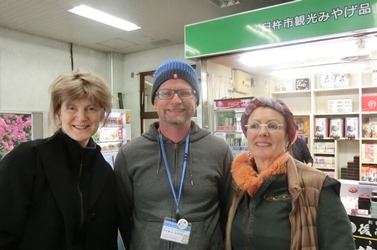 This is a photo from last year, with Ariane (from Belgium) who travelled with us. Ge Heimo in the middle of the picture who lives in Usuki and works as a farmer (organic) and also at the Usuki Tourist Office. He told us then that next time we would come to Usuki, he would organize a concert for us. So here we are!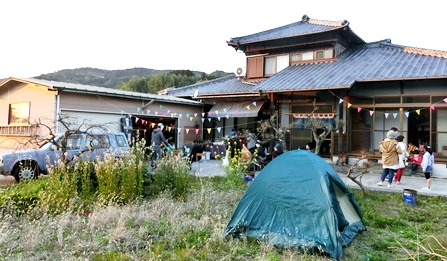 Tubby's is a music cafe and the home of a yoga teacher, a musician and their children. Their house is surrounded by rice-fields. Beautiful scenery, beautiful sky, the weather was warm and because of the corona threat we gave the concert outside. Families with children came and Tubby's had prepared the food.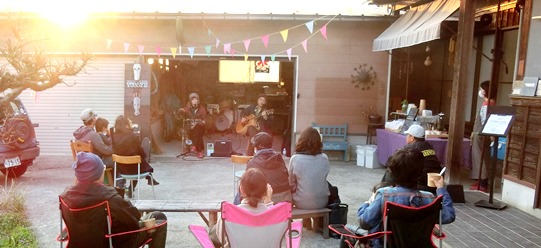 We played in the fresh air, and the sun set little by little. To stay warm, Bix danced on Marki's guitar solos, with the audience. The children were running around and playing, We were so happy to be there. It felt right, being close to nature. Heimo and his family as well as Tubby's owners originally come from big cities. They moved to Usuki in order to live a healthier life and do organic agriculture. For them as for us, healthy food, music, dance and well-being in the nature are essential. This is exactly what the world needs to fight the virus. Our immune systems need to find a balance with nature.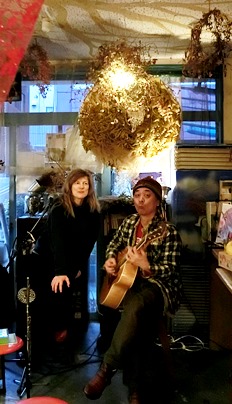 This tour showed us, this time, the contradictions in life, night and day, warm and cold… the virus is spreading but we felt even more the power of nature and of human beings' creative work, emotions, art, energy to counterbalance this spread. The virus will always exist from now on, and we have to live with him, and develop our immune system with the help of nature. We are back to Tokyo, happy and confident that the world will become better after this crisis, if we humans eat better, relax more, sleep more, and don't destroy the ecosystem in order to just earn money.

Thank you very much to all of you for following us, and see you soon again !!

26. Spring Tour 2020