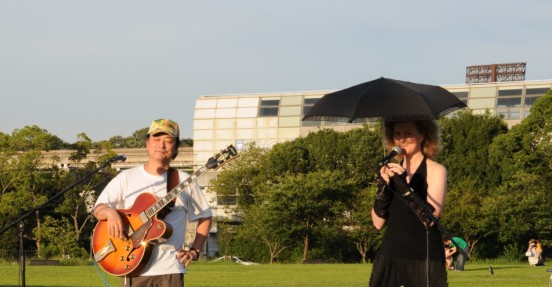 Bix & Marki  Summer 2011 Tour Report
We had 10concerts in West Japan from the 23rd July to the 7th Aug. Thank you very much for coming to our concert and also we thank the sound and light engineers and all the people who helped us organize this tour!
23rd July(Saturday) Gallery&Cafe Car-Den
Aichi-ken Miyoshi-shi Kurosasa
Tel 0561-35-5015 http://www.fm-beat.com/carden/index.php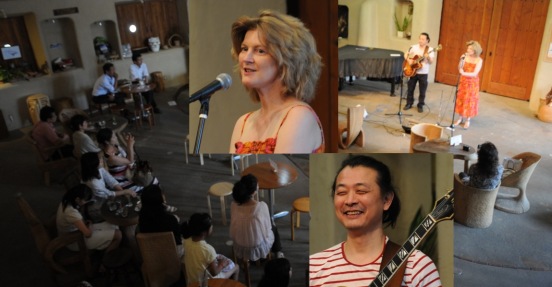 It was our first concert in the tour and we were very happy to see this beautiful big space. Wooden hand-carved chairs, stools and tables, a colorful exhibition in the mezzanine. Friends and ex-students from Brussels came to see us. It was a very very nice place to play.
24th July(Sunday) Espresso&Bar Suijin Cafe
Nagoyashi Chikusaku, Hoshigaoka station A5 exit 1min walk
Tel 052 781 3102 http://www.suijin.jp/index2.htm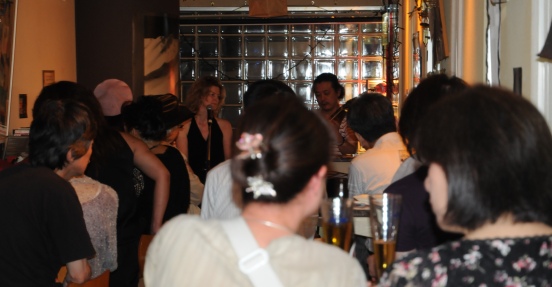 In this bar-cafe we had a lovely audience, seated on high seats, most of them could seemingly speak some French. Thank you to the Tokai Geijutsu Academy,and also to Tomoyo who took so good care of us during our stay in Nagoya.
28th July(Thursday) Radio KANSAI "MUSIC HEADS"
Invited to the program presented by "Unlimited Tone"
http://jocr.jp/blog/heads.php?itemid=13968
Unlimited Tone http://arbiestyle.com/unlimi/pc/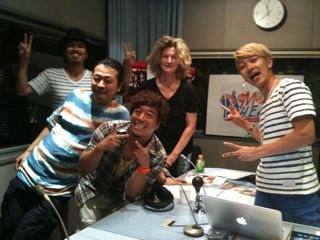 We were invited to speak about us and our music on Radio Kansai. The program was presented by the music group called Unlimited Tone, composed of 3 very friendly and good vocalists...We were invited to play one of our songs "Live" but also to sing with them, which we did: good harmonies came out in Summertime. We spoke about our background, the meaning of our music - and we got almost a whole hour. Lovely chance given by Misa in Kobe. We got response from the audience, and for each of the next concerts in Kobe, people came who had listened to the radio program.
29th July(friday) UrBAN GUILD
Kyoto-shi Nakagyo-ku,150m south of Sanjo-Kiyamachi,Newkyoto bld 3F
Tel 075 212 1125 http://www.urbanguild.net/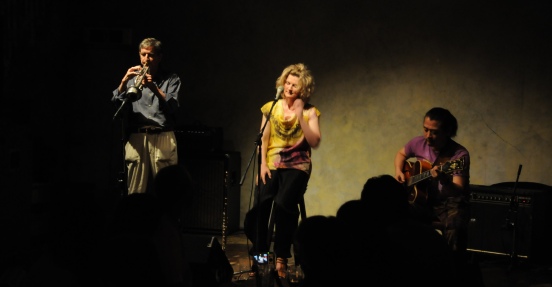 The Urban Guild concert was a very special one: friends from various periods of our lives came to see us and we felt very emotional playing there, remembering years back when we were living in Kyoto . But we also felt strong energy in the space itself, in the walls, on stage, where all kinds of interesting and experimental performances often take place.We played some tunes with Kyokazu Kuri and Christopher Fryman. Kuri san's crazy saxophone and Christopher's soft trumpet sounds gave a great contrast to our music.
30th July(Saturday) Eikokuya
Kobe Sannomiya, South side of the SOGO
Tel 078 251 4562 map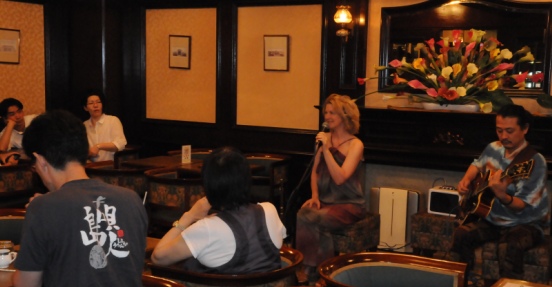 An old European style interior met us and our music: a warm and deep carpet, flowers, creamy desserts and cocktails. This concert got its own hot-chocolate style, thanks to Misa and Ya-chan. Many people came to hear us in this dreamy space.
31st July(sunday) Natural CAFÉ Rebeau
Kobe-shi Higashinada-ku, south side of the Settsu-Motoyama Station
Tel 078 862 5673 http://www.rebeau-cafe.com/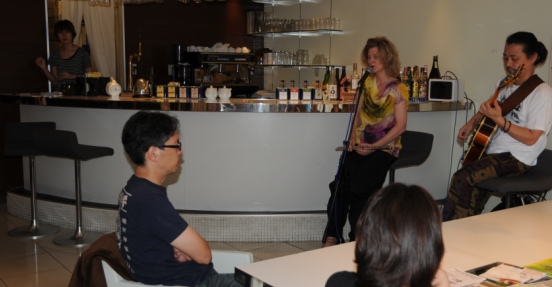 Organic food and good coffee... Rebeau was a fresh and relaxing place to be. Our music got yet another setting.We also wish to thank Misha for her participation/helping with it.
2nd August(火) City Hall of Kawachinagano-shi 
Preview of the world music festival in Kawachinagano 2011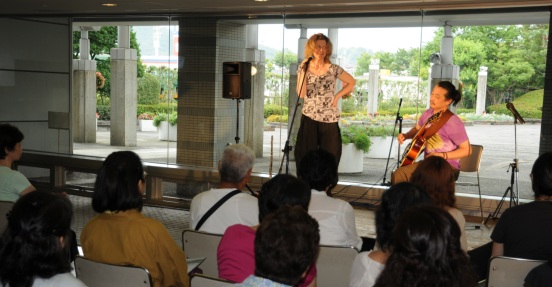 In the Kawachinagano City Hall, we played for an audience of more than 120 people. Very well organized, thanks to Lovely Hall, the City Hall and the producer Harmony Fields, we were able to present a part of French culture through our songs. Behind the stage,there was a nice garden and a nice view of the mountains. We appreciated the speech of the presentator who had a great humor and the fact that we shared this stage with accordionist Kanako Kato. This was an opening concert to introduce the festival on the 18th of September.
3rd August(Wednesday) Meimon Taiyo Ferry (At the enterance hall of the boat)From Osaka to Moji,Kitakyusyu
http://www.cityline.co.jp/index.html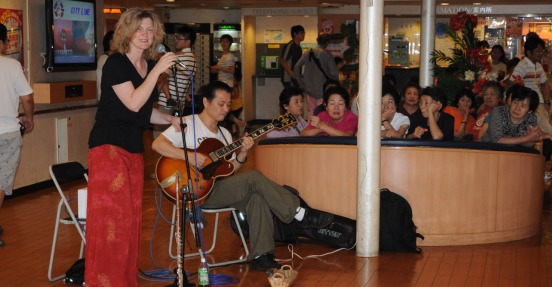 Between Osaka and Kita Kyushu there is this City Line Ferry. We played in the lounge for lots of people: families on holidays, truck drivers, basketball, hockey and volley-ballschool sports teams. It was probably a very surprising concert for them to see on the boat, but we were happy that some of them seemed to like our music.
4th August(Thursday) Cafe & Music BRICK HALL
Ktakyusyu-shi Moji-ku (North side of the Moji station)
Tel 093 391 4411 http://www.brickhall.com/index.html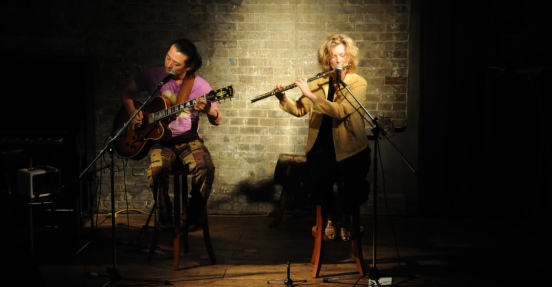 This place in an old brick hall was great. Sofas and deep armchairs for the audience, beautiful pictures on the walls, objets and decoration in the most subtile forms, A mezzanine and a big wooden stage. The sound engineering - work of the technician was perfect. It was a magic evening, with a magic audience who listened to us in silence . It was the first time for us in Moji but certainly not our last.
6th August(Saturday) Nagahama (japanese style pub)
Hiroshima-shi Nakaku, next to the Shintenchi park.
Tel 082-244-8486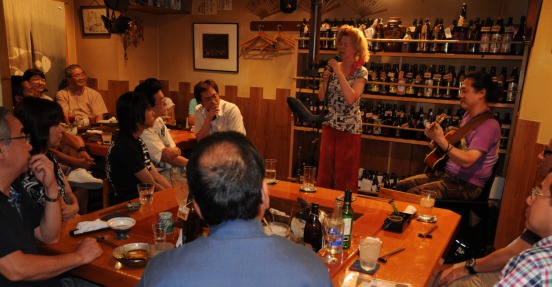 A superb audience in a wonderful restaurant,and we got an enormously warm support. The food was very very good, especially the sashimi. The friend of a friend's sister in Hiroshima, Ms Abe, kindly organized the concert and she brought her family. The owner Mr Nagahama invited some of his clients. Other people in the restaurant listened to us too. After the concert we talked with everyone. We enjoyed enormously this get-together of people, that happened by coincidence through our music.
7th August(Sunday) Expo-park, Osaka
Lohas festa (flee market)
http://www.lohasfesta.jp/about/index.html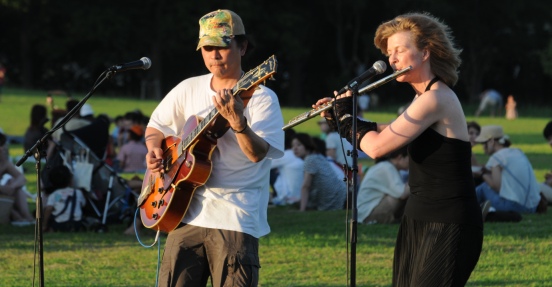 Thanks to Harmony Fields again, we played in the Lohas Festival, for thousands of people, outdoors on the grass. The atmosphere was fantastic, calm, open, free, natural: a modern Woodstock. We enjoyed playing there with all the elements around us, the wind, the sunshine...we loved to play for the people there and the idea of the festival. Some of our friends from Osaka and Kyoto came too. The Banpaku Koen at night and the Festival were lit up in the night, like a beautiful fairy tale.

1.Summer tour 2011
Tour Reports
1.Summer tour 2011