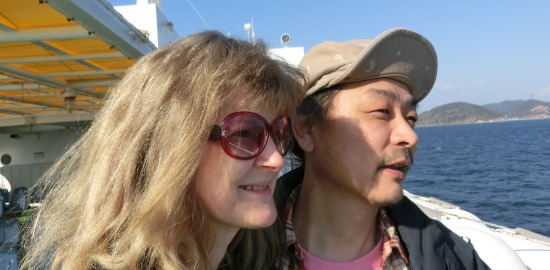 Bix & Marki Spring 2015 Tour Report
We worked till the last moment to make our new CD "Fresque".... Then left home and headed to our first destination, Hamamatsu, and then to Nagoya, the islands of Kyushu and Shikoku, Kansai. We felt the same good feeling as always on a tour, traveling with our music inside us, ready to share it with new people in new places.
Saturday 14 March 2015  Kuroneko-tei 
Shizuoka-ken Hamamatsu-shi Naka-ku Shinmeicho 315-8  
Tel 053-453-9334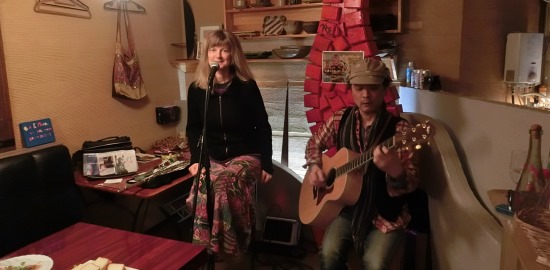 We arrived at around 4pm and were greeted by the owner. He loves music and had seen us play in Shizuoka two years ago. The room upstairs was prepared for the concert, and the counter downstairs for the dinner (French cuisine, before and after the concert)... The audience were French food, language and culture lovers. Later in the evening, we played again, and the owner clapped hands with us, on our rhythm ! It was wonderful. Thank you to you all.
Sunday 15 March 2015  Café Dufi
Nagoya-shi Naka-ku Shin-sakae 3-17-11   Tel 052 263 6511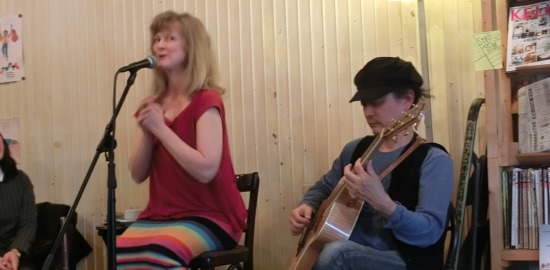 One concert in the afternoon, and one in the evening... That made people of all ages come, the youngest were 4 years old. We usually play at Dufi when we come to Nagoya, the atmosphere is relaxing and open, and the food is good ! We spoke a lot with everyone and our new songs got a warm welcome. Thank you !!!
Wednesday 18 March 2015  L'ami
Kita kyusyu-shi Kokura kita-ku basyaku 1-7-17   Tel 093-541-1773
Facebook   https://www.facebook.com/pages/Lami-%E3%83%A9%E3%83%9F/742698502464753?ref=br_rs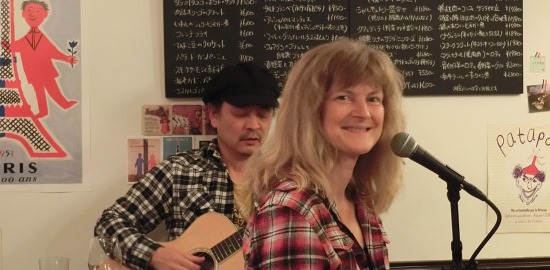 The ferry boat trip from Osaka to Moji was cancelled due to thick mist on the Japan Inland Sea... Our trip was cancelled (we were supposed to play in the lounge of the boat in the evening) and we took the train to Kyushu ... and we arrived straight to Kokura. "L'ami" the little French restaurant was wonderfully warm and friendly. Our music was welcomed with open arms, the clients were listening and commenting the songs in between,the food was great. This restaurant opened just 6 months ago, and we really recommend it to anyone going to Kokura or in Kokura. Thank you so much and we will definitely be back...
Thursday 19 March 2015  Kuroneko-ya Coffee shop
Fukuoka-shi Cyuou-ku daimyou 1-5-5 Gekkou Bld   Tel 092-725-5050
Facebook  https://www.facebook.com/dejavukuronekoya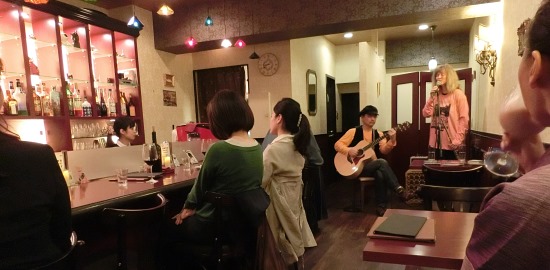 The black cat, the name of this cafe, is full of sculptures, paintings and drawings of black cats... We played in the light of candles and colored lamps, the sound was soft, the audience listened carefully,... We realized again that playing instruments live could sometimes be a new experience for some. We enjoyed speaking with the owner about life !
Friday 20 March 2015  Café Brassens
Saga-shi Gofuku Motomachi 2-24 north side of 656 Hiroba  
Tel 0952 97 9378   https://www.facebook.com/cafebrassens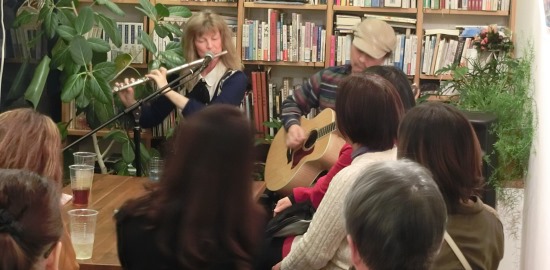 It was a beautiful evening, as it always is when we come to Brassens. It was our 4th time there. With the big support of the cafe owner (cultural center, gallery and concert space) we had a great audience. Bix did a French lesson at 4pm and we played at 7pm. Doing the lesson was really nice, because it gave us the opportunity to know more people who were in the audience afterwards... And to do an exchange of energies... In the concert and in between the songs, we were able to explain what we do and what we think, when we make the songs. We love Saga ! Thank you to you all !!!
Saturday 21 March 2015  Doro bushi
Kumamoto-shi Cyuou-ku suidou-cho 4-3 DORO Bld 1F  
Tel 096-326-8890  http://www.dorobushi.com/kumamoto/index.html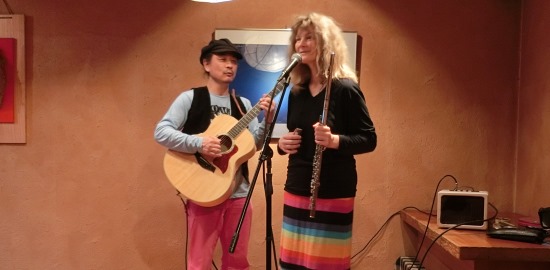 In a corner of the restaurant, a stage was made for us: wooden floor and walls, paper installation in the ceiling... Our sound went well with the setting, the organic food menu and the people. Bix did a small French lesson before the concert. Here too, doing the lesson before was fulfilling. In the same wave of energy, we played our compositions while explaining them... We find out that explaining the making of the songs is important. Because they are new.
Sunday 22 March 2015 Brasserie Vendange
Kagoshima-shi Higashi Sengoku-cho 2-38 Fukuzonoen bld 1F  
Tel 099 226 2729   http://br-vendange.com/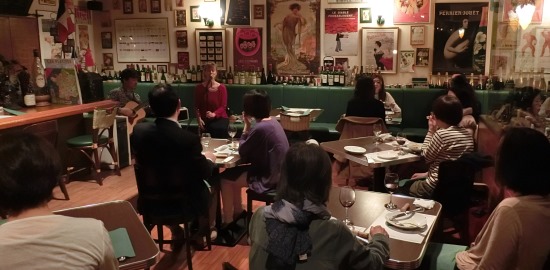 The owner of Brasserie Vendange organized the evening so well. Wine and cheese, beautiful lighting and space for us, it was great. The concert went smoothly, we loved it. It was our 2nd time there, and we got to know people better. We also went to see the newly opened creperie Charlemagne in a street nearby, opened by the same owner, and had crepe and cider. Friendliness and openness are the keywords of this wonderful day in Kagoshima.
Monday 23 March 2015  Relaxation caffe NAKANISHI  
Miyazaki-shi komatsu 3176-1  Tel 0985-89-2214
http://caffe-nakanishi.jimdo.com/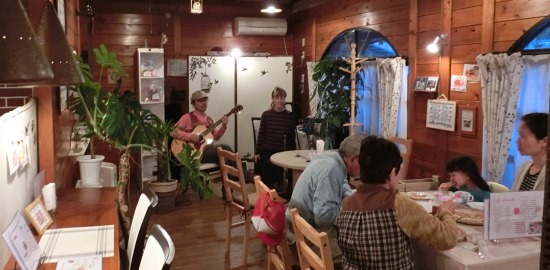 Our first time in Miyazaki! Well, Bix had been there more than 18 years ago... on a hitch hiking trip. The city seemed unchanged. Palmtrees everywhere! The little European Style coffee shop is located in the suburbs. We took a city bus for quite a long time and enjoyed the drive. We showed our instruments to a child which was a first opportunity for her and we got a nice hand massage after the live, from the wife of the cafe's owner. We got to know Miyazaki a little better ...
Tuesday 24 March 2015   Tully's Coffee (Ooita-cyuou-shop)
Ooita-shi Cyuou-ku Ni-cyome 5-3   Tel 097-548-5001
Facebook  https://www.facebook.com/TullysCoffeeoita
Twitter  https://twitter.com/tullysoita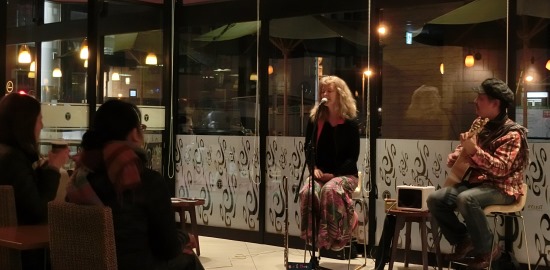 After 3 hours of train, we arrived in Oita and went to the hotel, put our luggage there and went to see Tully's coffee in the arcade of the center of the city. Then we came back there in the evening. The place was completely transformed ! There was a stage, nice spot lights, a wonderful setting, the organizer had come from Fukuoka to do it. We had a little audience but we met wonderful people!... for example people working for cultural events in Beppu and also language education in Ooita city . We really liked Oita. It seems to be an active and sweet town...
Thursday 26 March 2015  CINEMA PARANOIA  
Yamaguchi-ken Syunan-shi Shinmachi 2-29 PH Bld 2F 
Tel 0834 21 2435   http://www.ccsnet.ne.jp/~cap.banana/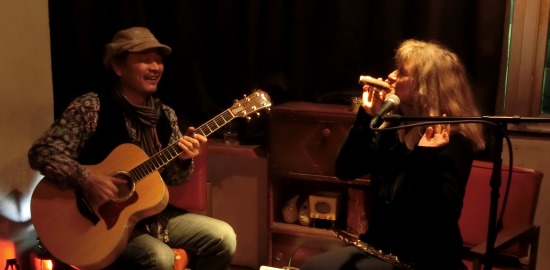 Cinema Paranoia is a special space with ears in the walls... Open to music and creation... There are old phones and a writing machine from the 30s and 40s, old records, a lot of French music and film records and posters. It was great to listen to French songs before and after our concert. Perfect space for our music. Everyone was so warm-hearted. Cinema Paranoia wants people to hear our music because it is ... different ! Thank you so much and we will be back of course.
Friday 27 & Saturday 28 March 2015  FM baribari & Le Puy
Ehime-ken Imabari-shi Sakaemachi 1-2-3 2F   Tel 0898 33 2623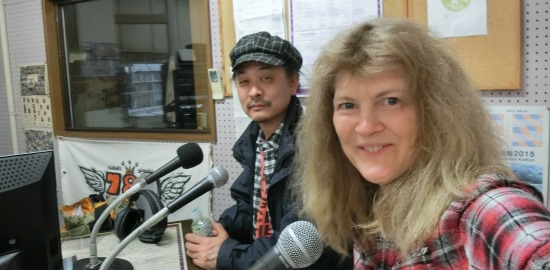 It was our first time to play on the island of Shikoku. We took the ferry over to Matsuyama and then a small local train in the country side to Imabari. The town has almost no convenience stores and seems different from the rest of Japan... We arrived and went almost straight to the local radio station Bari Bari FM to be interviewed, and then to Le Puy where we were going to play.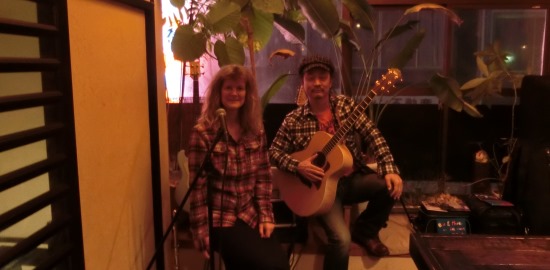 Le Puy is the name of a small town in France and the owner had studied in France for 2 years long time ago. Nevertheless it was the first time to do a concert there and in French. Lots of musicians, people from the radio station came, the place was full of audience. We loved it, it was powerful. Imabari is such a small town and has a lot of potential! The second day, we visited the beautiful castle sorrounded by sea water... Had a very romantic day, and in the evening of the 2nd day, we played 3 songs with the owner... We love Imabari bari bari !! (bari bari means very very much in Japanese ).
Sunday 29 March 2015  Kurofune-ya
Kagawa-ken Takamatsu-shi Kitahama-cho 3-2 Kitahama alley-c  
Tel 087 826 3636   http://r.goope.jp/kurofuneya/about
Facebook  https://www.facebook.com/KUROFUNEYA2001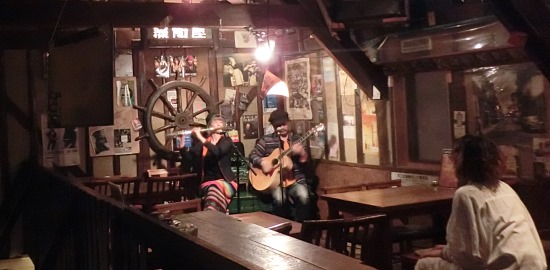 Our second concert in Shikoku, and our first time ever in Takamatsu. We didn't know anyone in town. We played in this very decorative and fun bar in a wooden warehouse in front of the sea, and got to know more people ! The setting was great for our music. Thank you !!
Tuesday 31 March 2015  Music House Duck
Hyougo-ken Nishinomiya-shi Hagoromo-cho 7-27 Erube-kan 1F  
Tel 0798-36-1959
Organized by « Découverte » (French lessons & French culture salon)
http://www.decouverte.jp/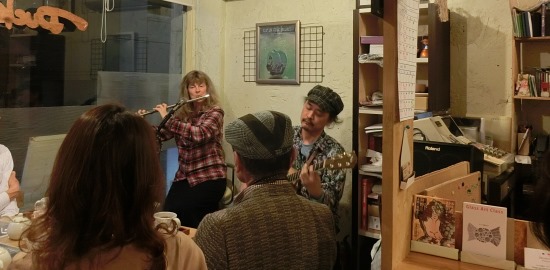 The little school and cultural salon Decouverte is located in a small street near the station of Shukugawa, Nishinomiya. The classroom is so sweet! Next to it is a music bar called Duck, and we played there, twice, for a small audience that filled the space. At 4pm and 7pm the audience was different, and we played different songs. They were all open to discover who we are (discovery - decouverte)! We will be back. Thank you so much from our heart !
Wednesday 1 April 2015  Bourbon House Lucifer  
Kyoto-shi Sakyo-ku Nishibayashi-cho 7-1 Casa Shimogamo 2F  
Tel 075‐702‐3537


Lucifer is a bar in Kyoto where Marki used to play guitar for many years. The bar opened 27 years ago and has had no closed day since ... Incredible. We played < a chaque moment > which is one of our new songs about working while having fun, like a bee making honey, naturally.... for Lucifer. Thank you for always letting us play there any time !
Thursday 2 April 2015  Le noeud papillon  
Osaka-shi Cyuou-ku azuchi-cho 1-5-7 E-fit bld 1F   Tel 06-6262-0123
http://www.vin-vin.com/papillon/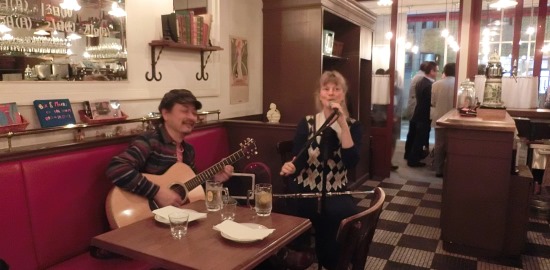 Our last concert of the tour !!! Together with the concert, there was a pre-opening party of the new wine bar next to the restaurant where we played. It was nice ! People came from the bar into the restaurant to listen to us. At some point in the evening it looked really like a French café in Paris in the 1880s ! Thank you so much.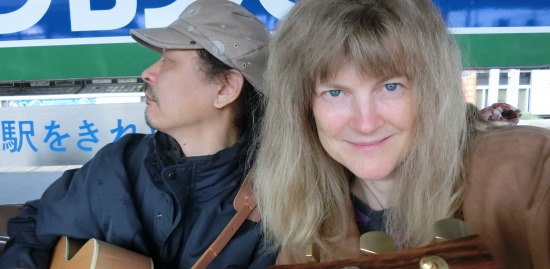 This tour went very well and was the longest we had ever made, 3 weeks of traveling, playing almost every evening ! We got to know and shared our music with wonderful people, and felt it was really worth the effort: heavy luggage and constantly moving, was balanced with positive energy, almost like a loop .... We are sooo thankful to everyone we met and will continue to compose and to travel around playing. Thank you very very much to you all !!! Let's soon meet again !!!

11. Spring Tour 2015