Bix & Marki  Spring 2012 Tour Report
Between March 17th and the 2nd of April,we were able to give 12 concerts in the West of Japan. We wish to thank everyone who attended our performances and all those who helped us with the organization and technicalities during this tour!
17th March(Saturday) Café Dufi
Nagoya-shi Naka-ku Shin-sakae 3-17-11   Tel 052 263 6511
10 min walk from JR Chikusa or Subway Chikusa station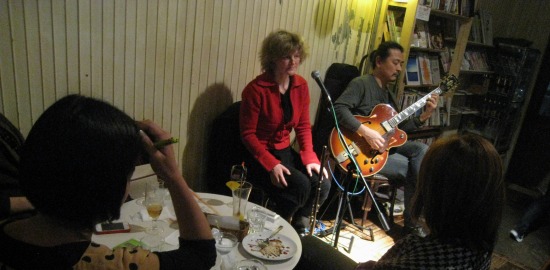 Our tour started on Saturday 17th March at the Cafe Dufi, where we had one concertin the afternoon and another in the evening. The very relaxed atmosphere at the Cafe Dufi was reflected in the people who were there, everyone seemed to have an open mind to new artistic challenges, including the wonderful couple who are the owners of Dufi. We thank everybody who came despite the pouring rain. We were also able to sell a lot of CDs.
18th March(Sunday) Café & Bar Perms
Nagoya-shi Higashi-ku Izumi 1-23-36  Tel 052 962 8878
Just next to 1A exit of Subway Hisaya-odori station
Map & Menu http://perms.jp/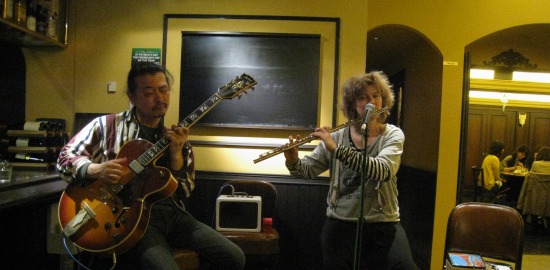 Perms is located in the very centre of Nagoya, has a very European atmosphere and has good food, desserts and drinks. We were able to play our music to a lot of new people, but also, we were able to meet again and play for our friends, who for the most of them, speak French. The atmosphere became then French-speaking and chic. We also thank Junkino and Vanni from the Italian Piccolo Folk and Tokaigeijutsu Academy for coming. It was wonderful to be able to play our music in such beautiful sorroundings.
20th March(Tuesday) Kafuka Meister-Kan
Shiga-ken Kouga-shi Kouga-cyo Ohara Ichiba 164-6
In front of south exit of JR Koga station
Support : Concert planning KaFuKa Tel 0748 88 2370
Map http://meister-live.jp/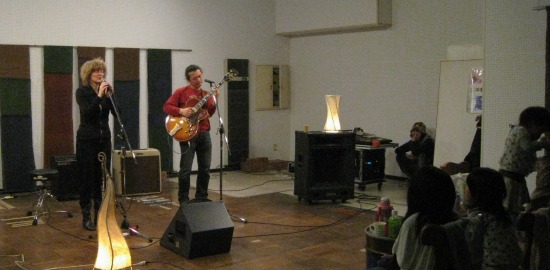 Kafuka Meister-Kan is an old, charming, big building in a very small town called Koga. It had previously been a bank and a handicraft studio. We were able to play there thanks to old friends from Marki's guitar and music activities in Kansai. The weather was quite cold, but the heater worked very well and the atmosphere was kept fresh and active by wonderful, sweet children and adults.
23rd March(Friday) Bourbon House Lucifer
Kyoto-shi Sakyo-ku Nishibayashi-cho 7-1 Casa Shimogamo2F
Tel 075‐702‐3537 Blog http://tosp.co.jp/i.asp?I=lucifer911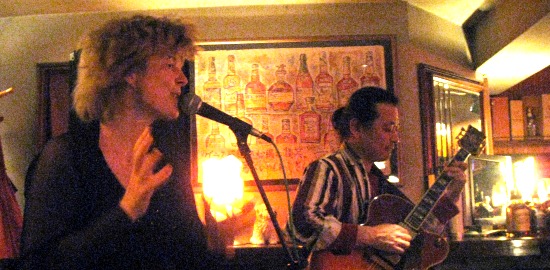 Every evening, more than 20 years ago and for many years, Marki used to play in this bar. Located near Shimogamo jinja, it is a beautiful little place, where you can even enjoy caressing the master's small chihuahua pets. Our concert had a guest, trumpet player Kamei san who played two jazz standard tunes with us. Many people and friends came that evening. Thank you so much also to Lucifer's master. We are greatful to him that we can play there anytime!
24th March (Saturday) Soba,cafe & Dining RAKU
Kyoto-shi Nishikyo-ku Oe Kitafukunishi-cho Fukunishi Center
Tel 075‐332‐0297   Next to the Marushige super market
Map & Menu http://www.raku-kyoto.jp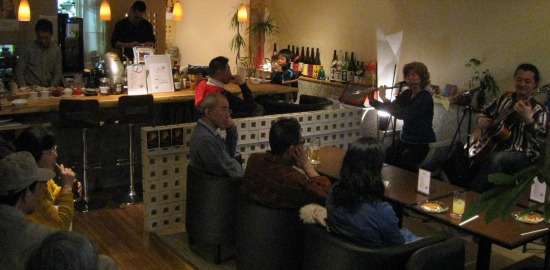 This was the first time we played in a soba restaurant, but this one was very special. It was introduced to us by an old friend fellow musician of Marki's. Raku sobaya has many sections of seats, good food, and natural, relaxing atmosphere. We played for a lot of people while they were eating and drinking. Friends came, and saxophonist Kuri san joined us in a few standard jazz songs. Thank you to all of you.
25th March(Sunday) Bourbon House Lucifer
Kyoto-shi Sakyo-ku Nishibayashi-cho 7-1 Casa Shimogamo2F
Tel 075‐702‐3537   Blog http://tosp.co.jp/i.asp?I=lucifer911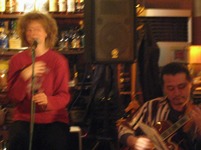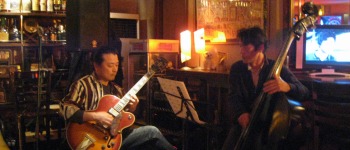 We played a second day in Lucifer, this time one set together with the double-bass player Kojima san. Black Orpheus to Billie's Bounce, remembering long time ago. Our songs in a relaxed mood. After the concert, we all enjoyed eating really good and smelly cheese, just brought to us from Bruxelles by a friend.
27th March (Tuesday) Cafe & Music BRICK HALL
Fukuoka-ken Kitakyusyu-shi Moji-ku Dairi honmachi 3-6-1
 (Moji Akarenga place)   Tel 093 391 4411
Map & Menu http://www.brickhall.com/index.html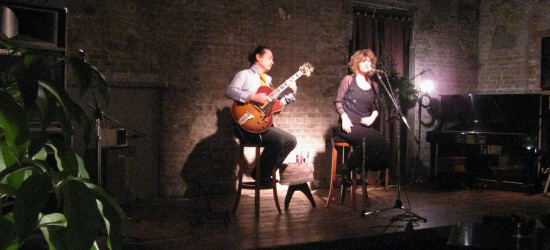 We played in this beautiful live cafe art place in this old brick building from the 19th century, as we did last Summer. Wonderful sorroundings, a wooden stage, the sound of the flute, the voice, the guitar filled the air on the mezzanine and the ground floor. Decorations, lamps, deep armchairs and sofas, the audience seemed to enjoy it. Bix received a beautiful flower from a member of the audience. We sold CD's, both the new and the old ones. This evening too was wonderful, thank you, Brick Hall.
29th March (Thursday) Hakozaki Suizokukan Kissashitsu
Fukuoka-shi Higashi-ku Hakozaki 1-37-21   Tel 092 986 4134
Map &Menu http://www.hakosui.net/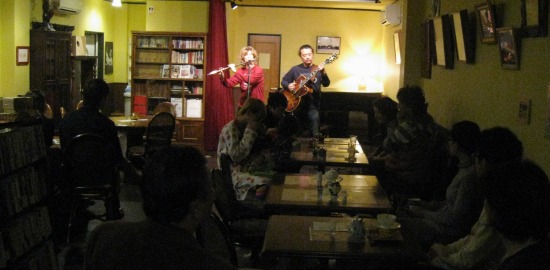 This coffee & music place in Hakozaki is actually also a place to relax and read books. Lots of the owner's own books of philosophy, European, Japanese, world literature and art books. Old black and white pictures of the aquarium that existed there a century ago are on the walls. In a relaxed setting, we could play our songs for an audience of musicians, artists and teachers, we found out. We will definitely play there again. A great and warmhearting space.
30th March(Friday) Sunny Side
Nagasaki-shi Douza-cyo 12-5-401 Daigo-Doza bld 4F
Tel 095 827 3239   5min walk from Kanko-dori dentei 
Map http://www.jade.dti.ne.jp/~firefly/Sunny_Side.htm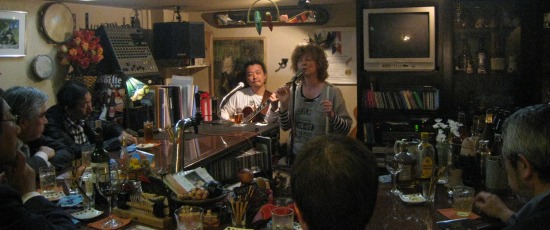 Sunny Side, a cute, special and small bar run by musicians Jeff and Keiko, was introduced to us by friends. We received a warm welcome, played for 20 people and to fit in everybody, we played behind the counter. After our concert a student of Jeff's played jazz and bossanova standards. We could really enjoy a wonderful and crazy evening in Nagasaki with real Nagasaki people. Thank you so much.
31st March(土) Kitty House 
Nagasaki-shi Katafuchi 2-17-5 Tel 095 825 9098 / 090 2397 3025
Map & Menu http://neji.honesto.net/kitty/kitty.html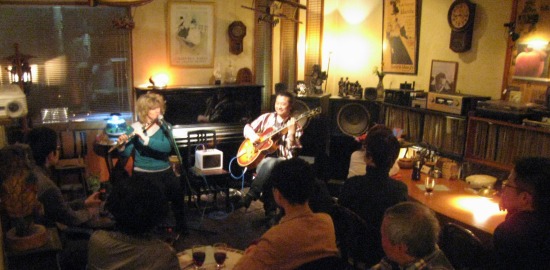 Not knowing anyone in Nagasaki, when we called and asked for the first time if we could play at their coffee house, people very often refused. But not Kitty House. When we arrived there, we were overwhelmed by the beautiful sense of arranging the space and the kindness of the couple running Kitty House. On the pictures, it seems small, but actually it is quite big, with a biliard table in the next room, wooden space with lots of objets, water running in a small fountain, Toulouse Lautrec posters on the walls. There are also signatures on the walls of poets and musicians and other artists who performed there. The audience was informed in advance of the kind of music they would hear, original, unheard French pop jazz. So the audience was prepared for us, which was wonderful. Thank you so much to Kitty House. We will be back.
1st April(Sunday) On the Meimontaiyo Ferryboat
Shin Moji port - Osaka South port
Meimon Taiyo Ferry http://www.cityline.co.jp/index.html


On the ferry from Kita Kyushu back to Osaka, we played for a lot of different people, including families on Spring holiday. We played in the evening, in the lounge, and a lot of people could hear our French songs and discover our world for the first time. We could sell CDs and get in touch with people that we wouldn't have been able to meet or play for usually. In exchange of the concert, we could eat and sleep on the ferry, which we really enjoyed.
2nd April(Monday) PLACEBO 
Osaka-shi Cyuo-ku Sennichi-mae 2-3-9 Ajisono bld 2F 
Tel 06 6586 9617 Map & Menu http://r.goope.jp/placebo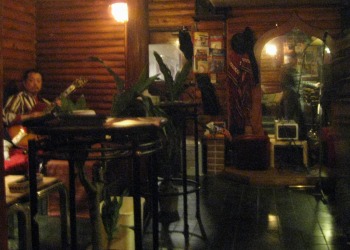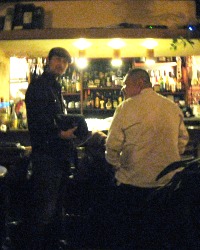 This was the first time we played concerts 5 evenings in a row. This 5th evening was in Placebo in Minami Osaka, in a very special building with a huge fountain and lots of small bars, each one more design than the other. Placebo, all in wood, with dark lamps and red cushions has a kind of gothic atmosphere about it. A part of Marki's family he hadn't seen for 25 years came and it was a big moment. We loved the space and will enjoy coming back there again.

Thank you very much and we hope to see you soon again in Nagoya, Kansai and Kyusyu.  Beatrix FIFE & Mamoru KATAGIRI

2.Spring tour 2012