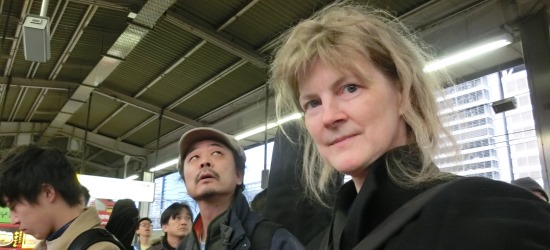 Bix & Marki  End of 2015~16 Tour Report
We left Tokyo on Christmas Day and played for the first time in Yamanashi Prefecture. Then we went on to Matsumoto (Nagano), Nagoya (Aichi), Gifu and Kyoto. We stayed in Kyoto for the New Year, and on our way back to Tokyo, played in Koga (Shiga). It was a relaxing mini-tour. The sun was shining almost every day.
Friday 25 December 2015  Café Stone's Brown Sugar
Yamanashi-ken Nakakoma-gun Syowa-cho Shimizu Arai 478
Tel 055 228 1424   http://brownsugarkofu.com/contact/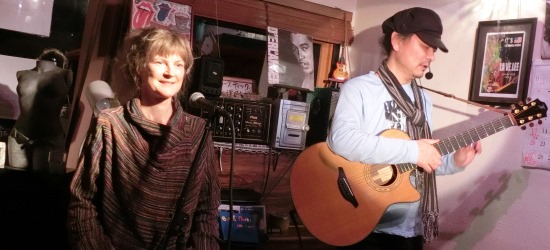 What a surprise to discover a cafe-pub, full of musical energy! Thanks to the owners, the place was packed with a wonderful audience. We played and spoke about our songs in a cheerful atmosphere. It was a wonderful Christmas Day and we will definitely be back again. It seemed that the place is on the way to become a musical center in town !
Saturday 26 December 2015  Au Crieur de vin
Nagano-ken Matsumoto-shi Fukasi 1-2-11 Syowa bld 1F
Tel 02 63 37 19 66   http://crieur-japon.com/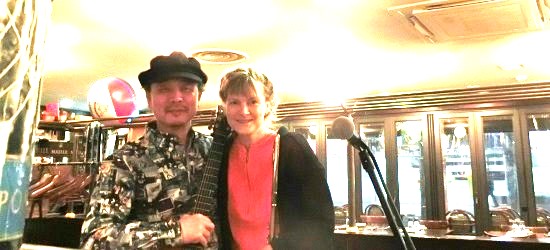 We are always welcomed warm-heartedly at the Crieur and it is always great. This time, there happened to be – by chance - 3 different groups of Year-End-Parties. In one way, it was good for us to play for so many people, but in another way everybody was drinking, eating, talking… it was a little too noisy… It is always a question of finding a balance between the music, the space, the time and the people. But this is a part of our tour adventure !
Sunday 27 December 2015  Cafe Dufi 
Nagoya-shi Naka-ku Shin-sakae 3-17-11   Tel 052 263 6511
http://cafedufi.com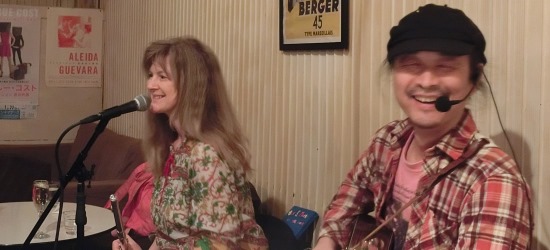 Dufi is our meeting point in Nagoya between new people and old friends. A little girl called Meisa (7) drew great pictures of us and of images in the songs while we were playing. We also found out that the bird-whistle we use in the song "Les oiseaux qui chantent" and that we played this time, is exactly the sound of the European Blackbird singing, thanks to a friend who showed it to us on his I-phone. He had been hearing Blackbirds singing every morning when he was living in Brussels ! What a coincidence. Or is it not? (lyrics of our song Tracassette).
Monday 28 December 2015  atelier feliz
Gifu-ken Motosu-shi Bussyouji 423-2
Tel 058 322 3558   https://www.facebook.com/Atorieferisu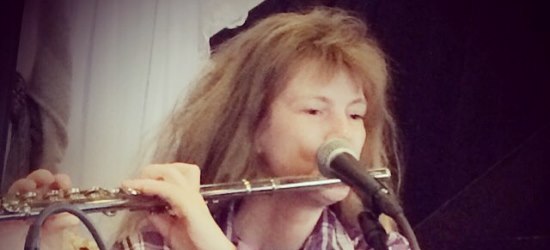 We took the bus for half-an-hour from Gifu station, then walked for 15 min, the weather was beautiful and we arrived in this big beautiful black house. Wonderful children and adults listened to us. Thank you so much, Feliz, for this time too !!!
Tuesday 29 December 2015  FSN bar (chez Philippe)
Kyoto-shi Nakagyo-ku Kawaramchi-rokkaku Higashi-iru
Rokkaku terrace bld 3F   Tel 090 5064 0642 https://www.facebook.com/chezphilippefsn/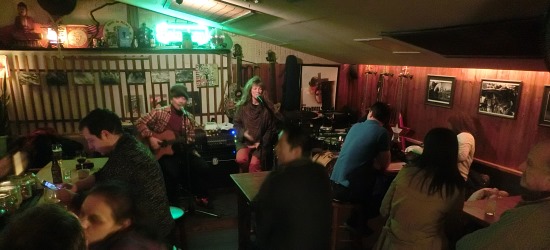 A great atmosphere and nice people from Australia, Canada, the States, Japan and France… On the walls, Philippe's paintings. Open minded-ness, love, art and music. We encountered the Kyoto we knew from long ago. It was our last concert in 2015. Thank you to all of you !!!
Sunday 3 January 2016  nora café
Shiga-ken Koga-shi Minakuchi-cho Sakoudo 292-2
Tel 0748-62-1157   https://www.facebook.com/noracafe.noracafe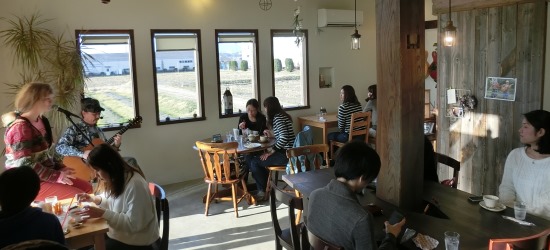 We left Kyoto in the morning of January 3rd and went to Shiga, on our way back to Tokyo. We played in the afternoon, our first concert of the Year, and our last of the mini-tour. Our friends who live near there brought us to the Café by car and after the concert, the owner of the place (who plays the guitar), our friend and a customer played three standard jazz tunes together with us. The weather was still beautiful. A great start in the New Year.
When we arrived in Tokyo the next day, we were happy, full of energy. The sun was shining. We wish you all a wonderful New Year 2016! Thank you for following us and let's meet again soon.

13.End of 2015~16 Tour