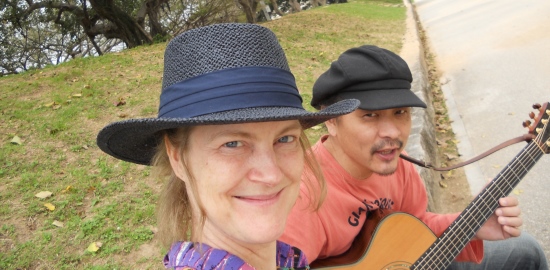 Bix & Marki Spring 2014 Tour Report
Our Spring Tour 2014 happened to be full of contrasts and discoveries. We left Tokyo by airplane on the 15th of March, and went straight to Okinawa, where we played in 4 places. We then travelled east to Kumamoto, Saga, Beppu, Tokuyama, Hiroshima, Osaka and finished in Kyoto on the 30th of March.
Sunday 16 March 2014  Bar SCARAB 
Okinawa-ken Urasoe-shi Iso 2-25 9-301 Pipe line square bld  
Tel 098 875 2771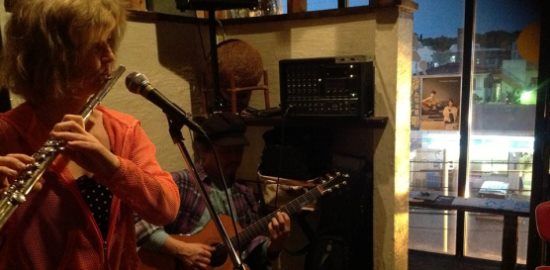 We played our first concert in Bar Scarab. Ghislain Mouton had introduced us last year. He organizes French events and French classes in Urazoe and did so this time too. Thanks to him, and his friend Alex who drew beautifully the presentation of our concert and the menu, and thanks to the Scarab, we enjoyed a beautiful Spring evening, the first one for us on Okinawa. Actually it was 10 degrees warmer than in Tokyo at the time we left it.
Monday 17 March 2014  Gitane Café
Okinawa-ken Okinawa-shi Cyuou 3-14-3   Tel 098-937-0714
http://www.gitane-cafe.com/location/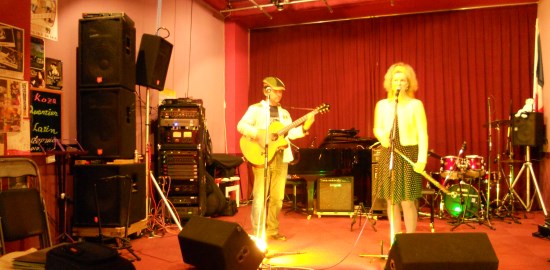 Okinawa City used to be the thriving town of the American military base. They started moving to the north of the island some time ago, and now Koza is really a film-maker's and musicians'town. A little empty but full of feelings, atmospheres, incredible streets and arcades. We arrived in Gitane which was owned and managed by two people in love with French culture, language, songs and history. A great place, with posters of Modigliani on the walls, Moustaki, Aznavour, with incredibly good sound equipment. The people who came to see us were all musicians. They all joined in at the end of our concert. A memorable evening ! We loved it !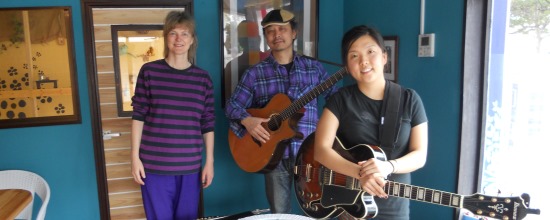 March 18 @ Café Reuben in Koza, Okinawa City
We had lunch at this coffee shop, then came to talk to Jun and Min who run the café. They had just opened it a few months ago. She is a musician-guitarist and he is writing ! The brightly colored place made us feel at home. They came to see our concert. We had our breakfast there. Then we played all morning, many songs with Min. We will be back again!
Tuesday 18 March 2014  MAFALi Café
Okinawa-ken Naha-shi asato 1-1-3 2F Tel 098-894-4031
http://mafalicafe.com/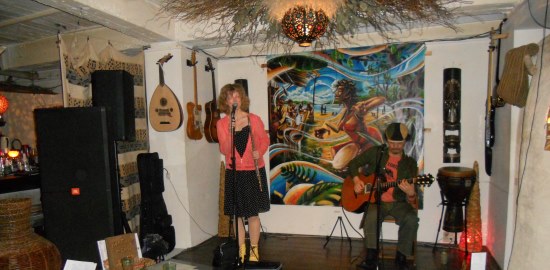 We discovered Naha, its broad streets, modern mansions, huge shopping centers, plants and trees everywhere… Mafali was all ethnic with masks and paintings. We played there for couples and young girls.
Wednesday 19 March 2014  La cloche 
Okinawa-ken Naha-shi Omoromachi 3-4-6   Tel 098-937-0714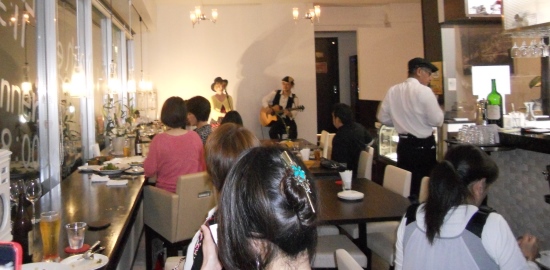 We played at this new French restaurant in Naha, and were impressed by the warm-heartedness of both the staff and the audience. When we said that French people often are late, they said we Okinawans too… It became a wonderful evening. French food in Okinawa and openness to other cultures.
Friday 21 March 2014  Chemin d'infini
Kumamoto-shi Cyuoku Shimo-dori 2-2-26   Tel 096-356-1774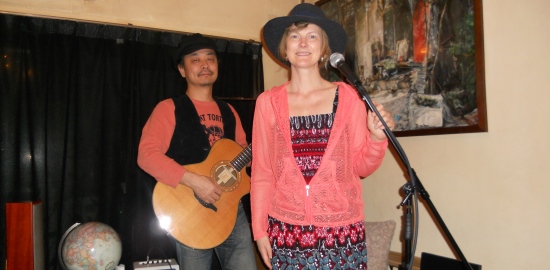 Here we played for the 2nd time. We got a close connection to the audience. The strongest impression was that of Marki sitting on an old-style European sofa while playing the guitar, facing a display of big cakes of all shapes and colors.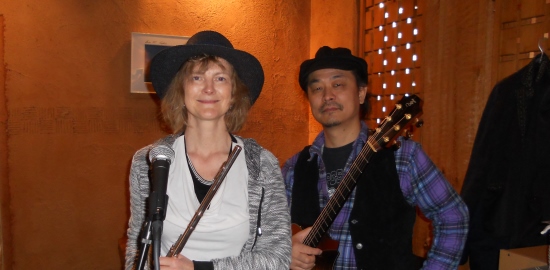 March 21 @ Dorobushi, Kumamoto
We were introduced to this organic food restaurant by a friend and student of Marki's from Tokyo. We played a few songs there in the day time, and fully enjoyed the soft acoustics of the place, due to the wooden walls, pillars, tables and benches. We loved the food there.
Saturday 22 March 2014  Café Brassens
Sga-shi Gofuku Motomachi 2-24 north side of 656 place  
Tel 0952 97 9378   https://www.facebook.com/cafebrassens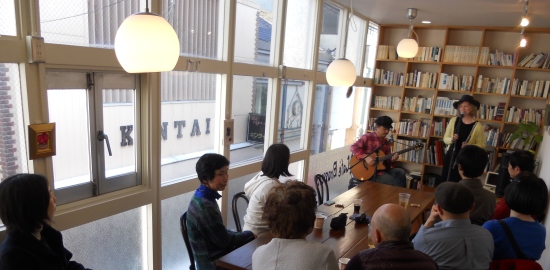 Café Brassens is becoming an artistic meeting point in Saga, with exhibitions, concerts, meetings… They have supported us warmheartedly since we came there the first time two years ago, and so they did this time too. 20 people came and the place was full. After the concert, a certain number of them stayed to discuss music, and we found out that playing at 5 pm in the afternoon was actually a very good idea. Bix had given a small French class in the afternoon, and that was really nice too, interweaving itself into the late afternoon concert. We love Saga. Everything is so neat and thought of in this beautiful little town.
Sunday 23 March 2014
Sweet Basil   (Onsen Ryokan Seikai 1F)
Ooita-ken Beppu-shi Kami hitogahama-cho 6-4  Tel 0977-66-3680
http://www.seikai.co.jp/access.html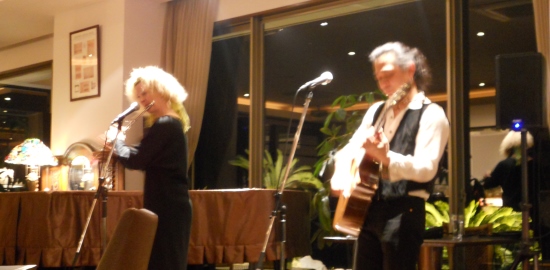 We took the local sightseeing train between Saga and Beppu and arrived in this sea-side hot spring resort in the afternoon. The hotel was probably the best Marki and I had ever been to, beautiful rooms, service, food … we played after dinner for the guests of the hotel. They listened carefully, in a calm mood, all of them wearing the yukata, a cotton robe that people wear for relaxation. It was a great experience to play there and to be – at the same time – guests of the hotel.
Tuesday 25 March 2014  CINEMA PARANOIA  
Yamaguchi-ken Syunan-shi Shinmachi 2-29 PH Bld 2F 
Tel 0834 21 2435 &emsp: http://www.ccsnet.ne.jp/~cap.banana/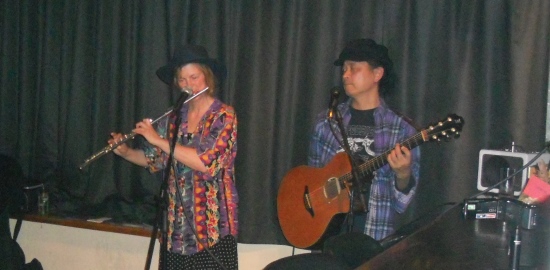 It was the first time we played in Tokuyama, and certainly not the last. Marki's uncle drove us there in the afternoon, and we discovered an arty, fashionable, young people's bar called Cinema Paranoia because the owner loves French films and music from the 60s… they only played French popsongs ! Wonderful for Bix who grew up with these. It could have been a film café near the Sorbonne.
Wednesday 26 March 2014  Beaux Raisins  
Hiroshima-shi Nakaku Ootemachi 2-5-18   Tel 082-247-5815
http://www.beaux-raisins.com/cafe/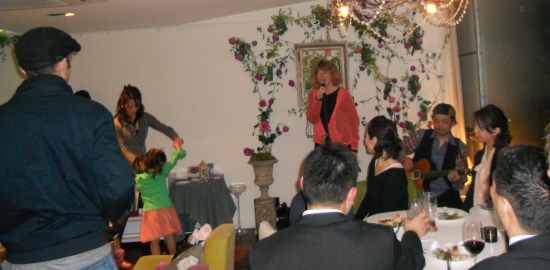 We played next to a big window, looking out on the Peace Park and the cherry trees starting to blossom. We thought we were going to play for a few people in the restaurant, but the owner had invited friends and acquaintances from Fukuoka, Kokura and Hiroshima… the whole evening and concert (with buffet) finished off with everybody dancing to our 'Est-ce vrai' tune. It was a great evening.
Thursday 26 March 2014  Le noeud papillon  
Osaka-shi Cyuou-ku azuchi-cho 1-5-7 E-fit bld 1F   Tel 06-6262-0123
http://www.vin-vin.com/papillon/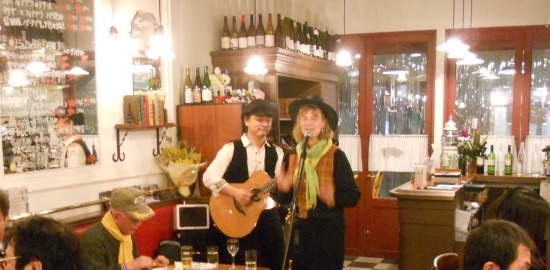 Le Noeud Papillon is a French style brasserie in the heart of Osaka, with mirrors and red benches, photographs of Doisneau and good pâté de foie and steak frites. A lot of people came, and we received a Mimosa flower from two fans of ours... The audience was drinking and eating and talking … which is absolutely a good thing when we play : there are two types of concert, the calm ones and the excited ones. This was the second one.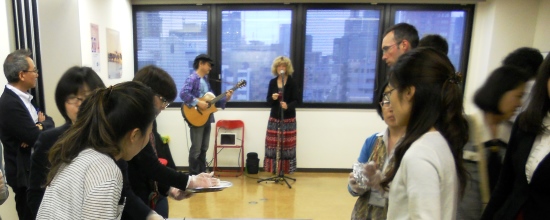 March 29 @ Rencontres Pédagogiques du Kansai, Osaka
Bix took part in the meeting of French teachers in Osaka for two days, the 28th and 29th, giving a class about"the music in language" on the first day. We played at the Closing Party on the Saturday. We didn't have to explain what the lyrics were about, because everyone understood!
Sunday afternoon 30 March 2014  Café Bastille  
Kyoto-shi Nakagyo-ku Sanjo Yanagino banba Agaru Aburaya-cho 94
Tel 082-222-1228   http://www.vin-vin.com/papillon/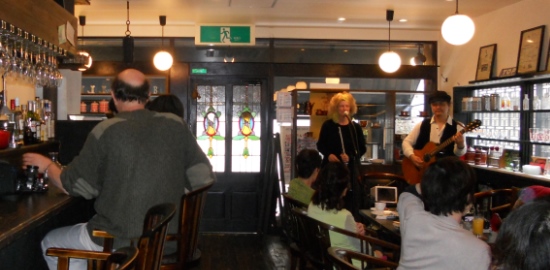 The cherry trees were blossoming, there were lots of tourists in the streets.. and this French style café was filled with people the whole afternoon. Friends of ours came, and we were so happy to see them and to play for new people too. The sandwiches were really good, and so was the coffee… Personally, I loved the fact that some of the posters on the walls were of paintings by Nicolas de Staël and Tapiès .
Sunday evening 30 March 2014  Renard Bleu  
Kyoto-shi Nakagyo-ku Aneya-koji Takakura Higashi-iru
Tel 075-231-0972   http://renard-bleu.newshop.jp/


To eat a delicious French style dinner while listening to our music was the idea for that evening in Renard Bleu. The couple running it knew music, musicians'situation (they had previously worked in a restaurant with live music) and that was a very good surprise for us. We also felt the soft and chic atmosphere of Kyoto … Two French-students of mine came all the way from Tokyo to see this concert. Our last concert of this tour was fantastic.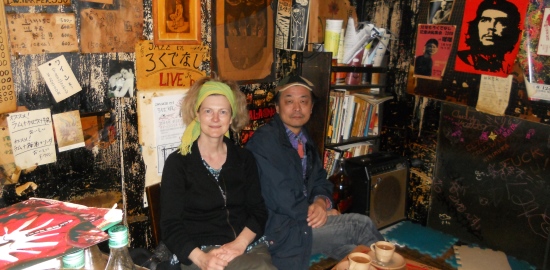 We travelled a long way and were able to play our music in various places with various styles, atmospheres and conditions, which nourishes it and makes it grow. It was a wonderful trip. Thank you to all of you, the audience, the organizers, everyone we came in contact with and you who read and follow us on this journey !

8. Spring Tour 2014