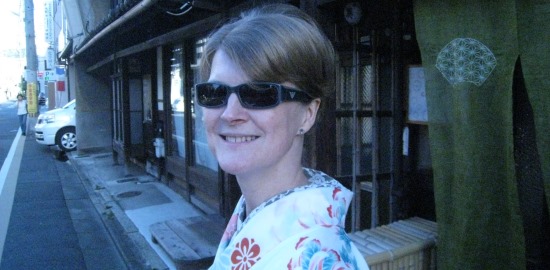 Bix & Marki Autumn 2013 Tour Report
Autumn Live Tour Report from 6 Sept. to 19 Sept. 2013.
This time, we played 10 live concerts in Gunma, Nagano, Gifu, Nagoya, Shizuoka, Hamamatsu, Kyoto and Osaka. It was a wonderful trip and we thank all of you who came to listen to us, who followed our tour on facebook or on the net, and all the people who helped us organize our concerts. Thank you very very much !
6 September 2013 (Friday)  Slow Time
Gunma-ken Takasaki-shi Saya machi 82 2F
Tel 027 325 3790   http://slowtime.petit.cc/pineapple1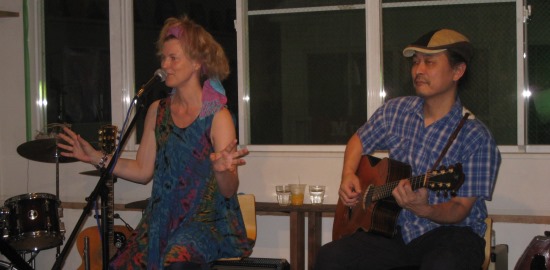 The first stop on our Autumn journey 2013. We noticed the wide streets, the very relaxed people of Takasaki, the sculptures of music instruments, and went to play at Slow Time. The café had deep sofas and books on shelves: our concert was relaxing, a very clear and straight forward feeling. Nevertheless, we found Takasaki mysterious and intriguing. The hotel we stayed at became one of my favorite (bx) ones. We met wonderful people whom we hope to meet again!
7 September 2013 (Saturday)  Au Crieur de vin
Nagano-ken Matsumoto-shi Fukasi 1-2-11 Syowa bld 1F
Tel 02 63 37 19 66   http://crieur-japon.com/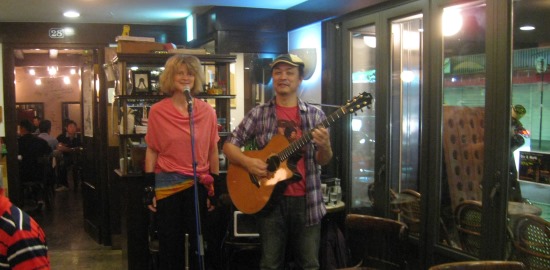 It was the first time we both went to Nagano Prefecture. When we arrived at Au Crieur de Vin we got very surprised : A real French café-brasserie... with a great,active and warmhearted staff, clients coming and going, walking in front of the open doors and the terrace, people standing and watching in, deciding to go in. Our concert had been prepared, with our presentation put inside the menu on each table... we played and played, ate delicious food, played and played the whole evening. An unforgettable beautiful experience. We got a great contact with many people... We would love to come back to Au Crieur de Vin... Please visit the place if you go to Matsumoto, have a coffee, a glass of wine, a lunch or a dinner... it is worth it.
8 September 2013 (Sunday)  Cafe SIESTA
Gigu-shi Yanastu-cho Kitatsuka 4-33
Tel 058 388 5972   http://www.cafecafesiesta.info/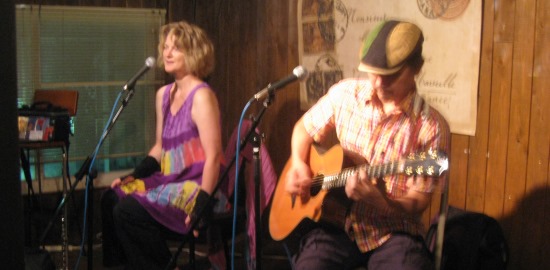 After a journey on the train in the mountains, passing places like Obasute (the place where they used to throw away grand-mothers in the Edo period) with beautiful views, we arrived in Gifu. We were invited to play in three different places, Café Siesta, Atelier Feliz and Open Sesame, the first and the third one created by the same owner Mr.S, with originality and great sense, wooden houses, contemporary decoration, a special energy. The second one managed and created by Mrs S. So we were two days in Gifu where we played in three places, and Café Siesta was really made for musicians and receiving live music... a nice stage, great food, for the most audience of young ladies and young couples in love. The great thing about Café Siesta was that people who wanted to eat and drink while looking at us playing, were upstairs, the ones who just wanted to hear us but at the same time wanted some intimacy, were downstairs. Our sound was sent around in the house !
9 September 2013 (Monday) 2pm  atelier feliz
Gifu-ken Motosu-shi Bussyouji 423-2
Tel 058 322 3558   https://www.facebook.com/Atorieferisu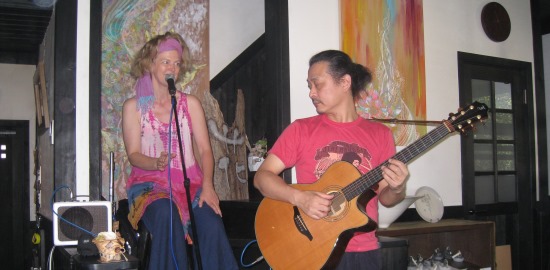 The second place in Gifu was on the next day, for afternoon tea. A really artistic place which Mrs S. wants to develop more and more as a small centre for artists, handicraft, pictures, installations, music… Upstairs, a beautiful wooden gallery. Downstairs a café and exhibition of works of more than 30 artists ! We played in the middle of the café for babies and grown-ups... we made our sound softer for the small ones. A fairy-tale house. Artists ! note the place!
9 September 2013 (Monday) 7pm energy cafe OPEN SESAME
Gifu-shi Oritate otsui 785-1  Tel 058-234-3505


This was Mr.S.'s other place. He is actually making a new one soon, which shows it really is popular in Gifu ! Open Sesame, it was like coming into a little fairy house too... a very high and narrow stage was there for live musicians, in the center on the right side. It was a narrow stage, which was interesting : we were high up and people could easily walk around and in front of us, and it was perfect for two or three musicians ! Friends of friends came to listen and there were students and young boys & girls in groups. We loved it.
10 September 2013 (Tuesday)  Café Dufi
Nagoya-shi Naka-ku Shinsakae 3-17-11   Tel 052 263 6511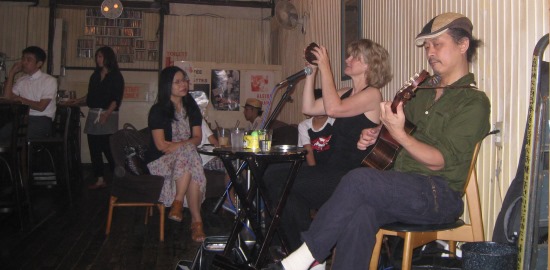 As we so often do, we went to play in Café Dufi in Nagoya. Always as welcoming, a latin atmosphere, and this connection to France... actually Dufi has one more new restaurant opening in October this year in an old part of the city, the Endoji Shotengai. Before our concert, we went to see the place, and were amazed to see this positive and creative energy people, artists, shop owners are putting to revive this old Japanese-style shopping arcade. That is exactly what we should do in Japan ! Keep the old, renew it, make something interesting of it. We agreed of course to come and play at the festival of the arcade on October 12, which has been called… "Paris Sai in Endoji" ! The Paris Festival!
Our concert went well, and we could meet our good friends, and others too...
11 September 2013 (Wednesday)  Business community LINK
Shizuoka-ken Aoi-ku konnya-machi 8-12 kinseiken bld 1F
Organized by éclatant & l'association franco-japonaise de Shizuoka Tel 054-207-8922   http://www.eclatant.net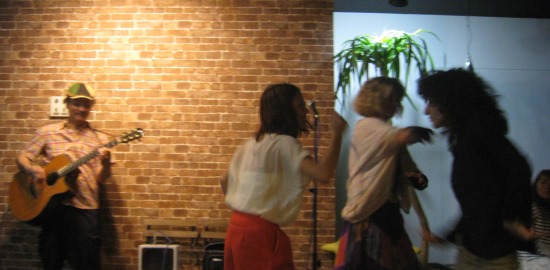 This tour seemed to have a focus on meeting wonderful active people with new art and cultural projects... So it was in Shizuoka. Ms. Hitomi Yamamoto arranged for us to play for around 25 people interested in French-Japanese exchange, through the French-Japanese Association, in a nice place called "Link" downtown. There we played, people ate canapés and drank wine, we talked French and Japanese. People started dancing to our tunes!! Probably it was because French people like to dance, and one of them, Blandine, really did !! In the French culture, to dance is very very important... slow dance, fast dance, traditional, contemporary, any dance... Ms. Yamamoto is the creator of the magazine ECLATANT which promotes information, understanding, cultural exchange between Japanese and French speaking culture. She is a great person, and let's support her ECLATANT project !!
12 September 2013 (Thursday)  Epiphanie
Shizuoka-ken Hamamatsu-shi Naka-ku Sanarudai 2-21-26  Tel 053-448-8818   http://www.wr-salt.com/epiphanie/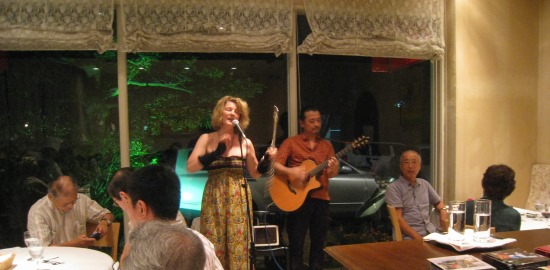 Mr. And Ms Nagai in Hamamatsu organized the concert in a top-class French cuisine restaurant "EPIPHANIE" in Hamamatsu, for more than 30 people. Mr. and Ms. Nagai had some beautiful words... "it is through cultural exchange on a smaller level that the world will become a better, peaceful world"... we were impressed with their philosophy of life and also Epiphanie's owners', Mr. and Mrs. Minamitake. The corn soup, the fish, the sweets, everything they had made was delicious. We will definitely come back...
14 September 2013 (Saturday)  Tenjin Mori no Atelier
Kyoto-fu Nagaokakyo-shi Tenjin 2-15-13 inside Nagaoka Tenjin shrain
Tel 075-956-7626
  http://tenmori.com/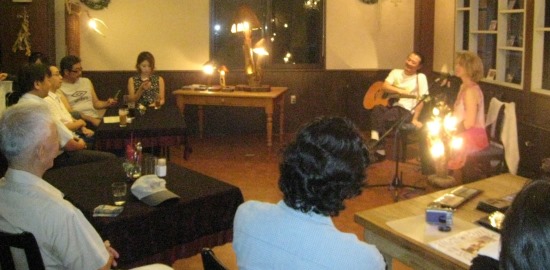 Next to the shrine of Nagaoka, crossing a bridge, amidst trees, sculptures and at the foot of the mountain, was this house. It had been a flower shop before, and now it was almost empty, but for tables and chairs. Together with the flower shop keepers and Mr. Setsu who organized this event, as well as the sculptor Konno Noriyuki and his wife, we put up the place in three hours... again, a fairy tale house. The wooden lamp-sculptures of Mr. Konno's lit up the space, the Turkish coffee-kebab owner next door and his wife served food and drinks, and we had about 35 people coming. Some of them were old school friends of Marki's who still lived in the region. Mr. Setsu happened to be a school friend of Marki's, a drama and scenario writer.
19 September 2013 (Thursday)  Unshu-do (dining IORI)
Osaka-shi Kita-ku Sugawara-cho 7-2 Tel 06-6361-3903
  http://www.iori-unshudo.com/access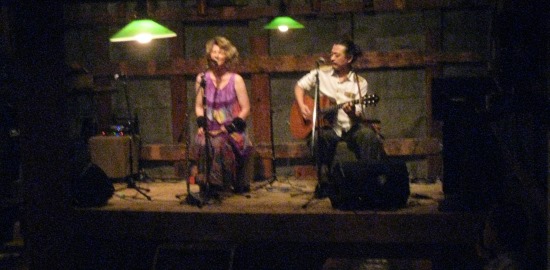 Here it was not our first time, yet even better than last time... because there happened to be a golden thread between the three groups playing that night : singer-song writing & guitar... dreamy, travelling sounds. We played after Mr. Suzuki and before Nakasion. The audience was attentive, sensitive and welcoming all of us. This time we played with Mr. Kuri (alt sax) as a guest in the 3 songs "Appeler tes étoiles", "Pétale Confirmé" and "L'esprit plastique". His 'wild' Coleman sax sound fit well with our improvisation parts, Bix also stood up and danced in the last part. Unshuudou is a magic place.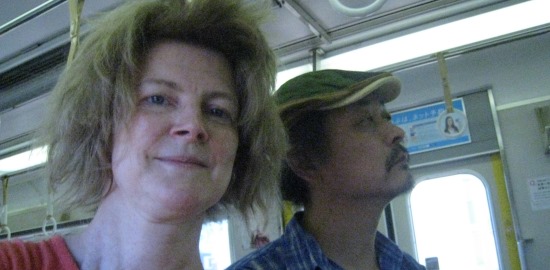 This was Bix&Marki's 5th Live tour and we are starting to get used to going around! This time we had brought a special case to carry the CDs including our new 4th CD, and found little by little better ways to carry our stuff around on the trains. It definitely is good sports, a lot of walking, sleeping and eating in different places, meeting great people, and we look forward to our next tour. Through this one, we got a few new concert requests, and felt we will absolutely continue on this very human journey. As was said in Hamamatsu, it is by little cultural events of personal works that one can bring more peace and understanding to this world.

5.Autumn tour 2013