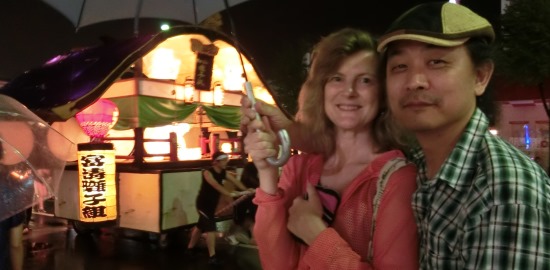 Bix & Marki Summer 2014 Tour Report
We went on our Summer Tour 2014 on the 1st of August and came back to Tokyo on the 10th of August, this time up North! The owner of the coffee shop LARE in our neighborhood in Tokyo suggested one day to organize a concert for us in Sapporo, on the north island of Hokkaido, where his brother and colleagues live. This is how we decided to start our journey there, going southwards from Sapporo, playing in various towns: Hakodate, Hirosaki, Morioka, Sendai, Utsunomiya and Takasaki. We took a plane from Narita on Friday evening the 1st of August and played every day. Thank you to all of you who came to our concerts and helped us organize concerts in this wonderful tour.
Saturday 2 & Sunday 3 August 2014  Tokumitsu Coffee (Oodouri)
Sapporo-shi Cyuo-ku Oodori Nishi 3chome Odori Bisse 2F
Tel 011-281-1100   http://tokumitsu-coffee.com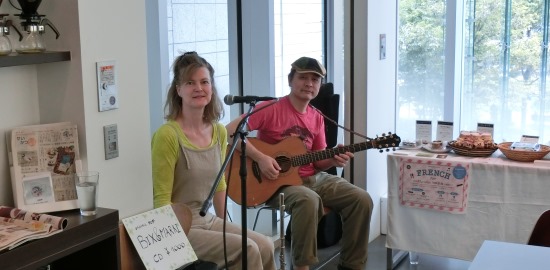 We met the coffee shop owner and put up our equipment at 9:30 in the morning on Saturday the 2nd of August. Next to the stage, the coffee shop displayed a mini-French fair with French cuisine and cakes. The Lare owner's brother in Tokyo was one of them: he makes exquisite cannelés de Bordeaux. Tokumitsu Coffee is on the 2nd floor of a modern building in the center of town. The walls are made of glass, and we can look down at the street, feeling that the Winter is long and cold and that is why a lot of shops are inside the buildings. We played three times in the afternoon, for two days. In between the songs, we talked about France, food, art, our songs, who we are… It was a great experience.
Monday 4 August 2014  Gotouken
Hakodate-shi Suehiro-cho 4-5  Tel 0138-23-1106
http://www.gotoken.hakodate.jp/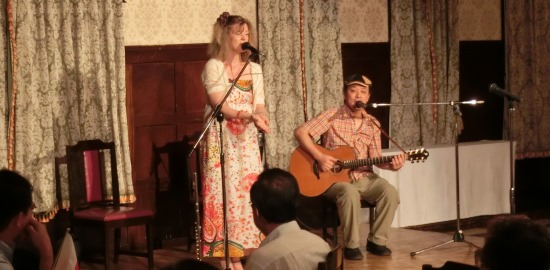 In Hakodate, the concert was organized at the famous restaurant Gotouken for the members of the French-Japanese association, which had been run by an active French priest, Shimpu Kurodu (missionary father Claude) who sadly passed away last year, at the age of 85. We played in a beautiful European style room in the restaurant, as a dinner show. Also, a singer called" Mr.Tombo"from the association sang some old French songs in Japanese, in a very soft and poetic way. The evening was fantastic. There was a feeling of great support to our music as new French music. The restaurant was founded in the 19th century by the president's great-grand father, and is like a museum, with stained glass, pictures, things that foreigners brought from abroad when they first arrived in Hakodate in the old days. Hakodate will stay in our mind forever, a beautiful port town with historical buildings, sweet streets, and beautiful scenery. Thank you so much to the president of Gotouken for having organized this beautiful event for us and for having been so kind, generous and open-minded, and big hugs to the members of the French-Japanese association.
Tuesday 5 August 2014  menbo TAKEYA
Aomori-ken Hirosaki-shi Minori-cho 10-1  Tel: 0172-36-8938
http://m-takeya.com/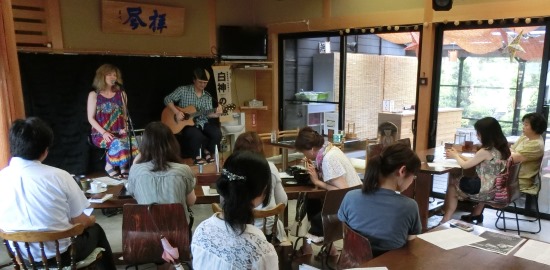 Hirosaki was full of tourists coming from all over Japan to see the festival and parade of lit handpainted floats. After a 3 hour beautiful train ride, we met the person who was organizing the concert, as well as other French-related events, and went with her to the place where we were going to play in the afternoon. This soba-restaurant is run by a music-lover. Suddenly, he changed a corner into a stage, with colorful spotslights and black curtains... The audience was lovely and there were some French language students from the university. The rain was pouring down outside. After the concert, we went to see the festival with them, walking in the rain, among wild screams, colorful paintings, people dressed up, who were pushing these big floats. What an energy. Thank you so much to the wonderful people who helped us and to all of you who came to our concert !
Wednesday 6 & Thursday 7 August 2014  Wine Restaurant TAKU
Iwate-ken Morioka-shi Saien 1-4-1 Tel: 0196-13-5544
http://kita1.info/taku/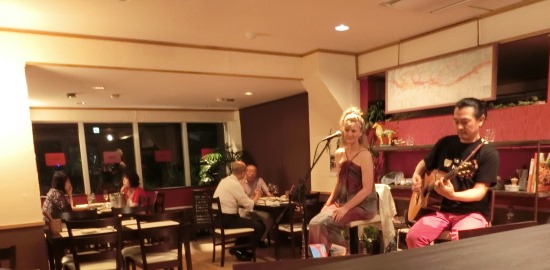 It was raining cats and dogs, because of a typhon coming slowly over Japan, further south. The railway got hit by a landslide, we then had to take a bus to Morioka. We arrived an hour before the scheduled concert, and found a sweet and relaxed restaurant run by a wonderful newlywed couple ! She speaks fluent Italian. We were warmly welcomed and felt very happy to play there. We played there for two days, we then had time to walk around and enjoy the city during the daytime. Morioka is very calm and artistic with beautiful parcs, museums, decorated shops... people told us of famous artists and of legends of devils and monsters in Iwate....
Friday 8 August 2014  Singapore Night
Miyagi-ken Sendai-shi Aoba-ku Uesugi 1-4-1  Tel: 022-222-2926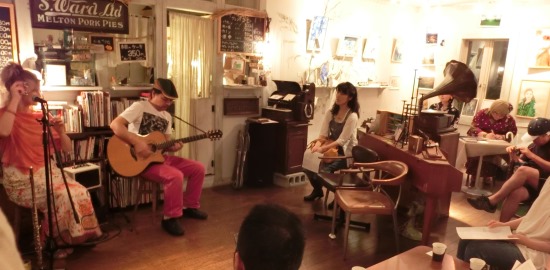 It was raining also in Sendai.: this tour was definitely a rainy one. Singapore Night is a coffee shop with old furniture, a harpsichord, a grammophone, violins on the walls and there was an exhibition of painted debris of the tsunami found on the beaches, and of photos of light and flowers taken on these same beaches. What happened 3 years ago is such a tremendous tragedy for so many people, but we felt big hope and energy there. We played for a very silent and concentrated audience. After the concert, a Japanese tune on a bamboo flute Ryu Teki (the flute of the god of Water) was played... We thank with all our heart everyone who was in this unique and artistic coffee shop, and the organizers and helpers.
Saturday 9 August 2014  LE METRO
Tochigi-ken Utsunomiya-shi Ikegami-cho 1-11 Tel: 028-634-4545
http://praktica.jp/lemetro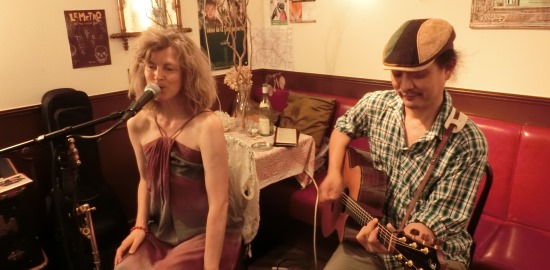 The next day, we played in Utsunomiya in a French-style decorated restaurant. It was like coming into a Bistro in Paris… A nice couple runs the restaurant and they made a table d'hôte for the evening – a long table where people sit together without necessarily knowing each other – which is quite a special thing to do in Japan... All people were welcoming and open to our songs as original works. We spoke French with some clients. It was a very very nice evening.
Sunday 10 August 2014  Albero 
Gunma-ken Takasaki-shi Shimosatomi-cho 1701-1 Tel: 027-340-1235
http://www.albero-yamakifarm.com/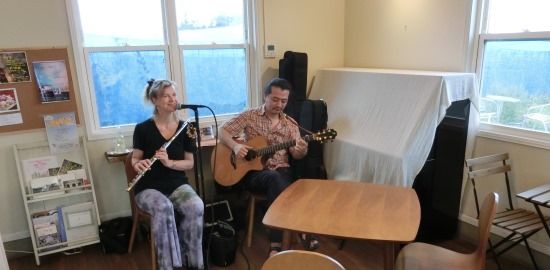 We took a local train the next morning to Gunma, and enjoyed the beautiful scenery of Tochigi and Gunma. Arriving in Takasaki, we rode a bus to the outskirts of town, walked in fields of pear trees and arrived to a gelateria of home-made ice-cream in the middle of the fields! It was incredible. The owner loves music and organizes concerts there. We played right away at 2pm and 3pm for a lot of people coming with their families, children, grown-ups, although the wind was still strong outside and dark clouds were drifting fast in the sky.. The idea of using fresh fruit and various tastes in the ice-cream is great, and we particularly enjoyed the rucola and sesame ice-cream and the lavender and blueberry one. Such a creative and natural place...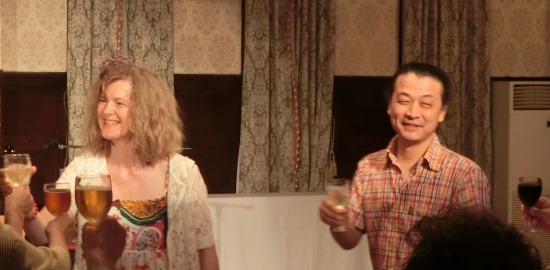 After the concert, we went back to Tokyo. The humidity level was high but it was not raining. We fell asleep right away, at home, feeling happy of this intense and profound tour where we encountered deep contrasts and warm-hearted people. Our music was nourished by these places and energies. Thank you so much to all of you who supported our music in this Summer Tour 2014 and for following us !

9.Summer Tour 2014