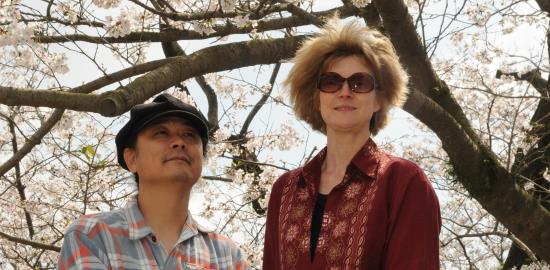 Bix & Marki  Spring 2013 Tour Report
Here is the Spring Live Report from 17th March to 4th April 2013!
We played in 14 different places, ranging from the island of Ishigaki to Nagoya. First, we flew from Tokyo to Okinawa,the next stop being Kagoshima, where we followed the cherry blossoms up to Kita Kyushu. We usually tour for 2 weeks, but this time it became a 3 week-tour. Barbara from Brussels joined us and took all the photographs. We thank everyone who came to see us and also the cafe/bar owners who organized the various concerts for us at their places. We really thank you all very much.
17th March (sunday) 3:00pm  Fuu Café
Okinawa Motobu-cho Sezoko 557  
Tel 098 047 4885   http://www.fuu-cafe.net/index.html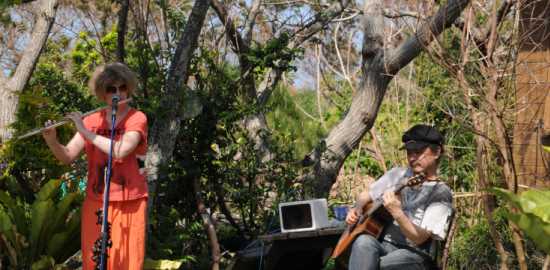 The first concert of our tour was on the main island of Okinawa. The three of us (we were accompanied by our photographer friend Barbara from Brussels who took all the pictures!) took two buses for all together 3 hours to the north of the island. We looked for a coffee shop: half doubting and half hoping of finding it, we walked for about 10 min in the fields, after getting off the bus. Then suddenly it was there: the coffee shop that our guitar student in Tokyo had introduced us to. Actually, it happened to be run by a colleague of a very good friend from high school of Marki's. We played in the garden, in a wonderful mood, amidst flowers and grass and trees, looking at the sea. We were offered drinks and lunch, and we understood that they were even better than those of the popular coffee shops in Tokyo.
17 March 2013 (Sunday)7:30pm  Yama chan
Okinawa Motobu-cho Yamakawa 638-5
Tel 098 048 2664   http://www18.ocn.ne.jp/~yamachan/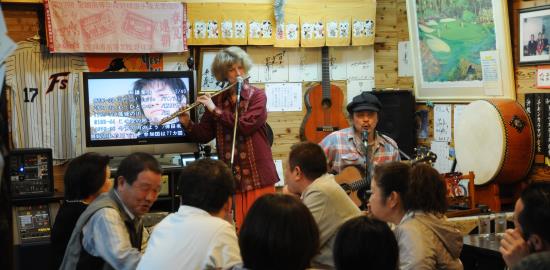 Our next concert was also in Motobu, in the north part of Okinawa's main island, in a very popular izakaya called Yamachan close to the Chiraumi Aquarium. There were already many people when we arrived. We got a warm welcome from the audience, and played for a long time. The owner of Yamachan has such a powerful personality, and after the concert, he started singing Okinawa karaoke songs, followed by all of us... we sang, played and talked with people from all over Japan, tourists or regulars who come to Okinawa from Hokkaido, Kyoto, Saitama... it was an exciting evening.
19 March 2013 (Tuesday)  Bar SCARAB
OKINAWA Urazoe-shi Iso 2-25 9-301 Pipe line square bld
Tel 098 875 2771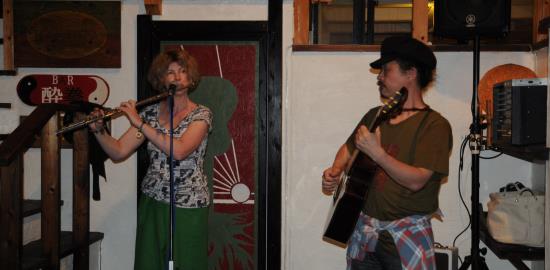 Mr. Mouton (Hitsuji sensei) organized for us the concert in Ginowan, north of Naha. He has his own French school and invited us to play in Scarab bar,for his students and friends. This bar was just perfect for our music, drawings on the walls, wooden mezzanines on different levels, good wine and cheese, the audience was so warm-hearted and open-minded to our original songs, and also, Mr. Mattsun and his wife, the owners of the place... A student of Hitsuji sensei and a professional singer, Ms. Kanako Kimura played a French song on her guitar....Barbara and us too got a lot of information about Okinawan history and culture, and we enjoyed speaking to everyone ... we will be back !
23 March 2013 (Saturday)  BANYA Farm
OKINAWA ISHIGAKI Momosato 165-411 Inoda side of Urazoko street
http://ameblo.jp/bannya-inoda/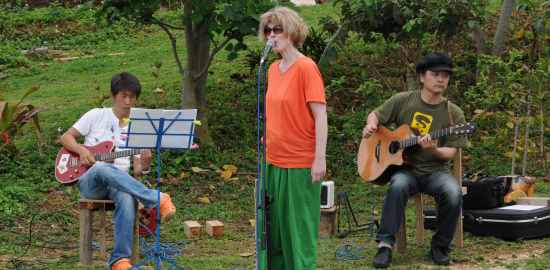 We enjoyed 4 days of playing and partying with local musicians on the beautiful island of Ishigaki. Here it seemed that many people had come from the nearby islands around and central Japan to enjoy life in these relaxing surroundings. We played outdoors in front of the Pacific Ocean at the Banya-Farm, where the guava-juice and shikuwa-juice were particularly fresh: probably the best juice we have ever had. A musician friend from Kyoto from 20 years ago played some songs with us on his rock guitar. The famous Okinawa sanshin-player Mr. Higa rounded up the concert, which ended in Okinawa songs and dancing. An unforgettable bowl of fresh air.
24 March 2013 (Sunday)  Brasserie Vendange
Kagoshima-shi Higashi Sengoku-cho 2-38 Fukuzonoen bld 1F
Tel  099 226 2729   http://br-vendange.com/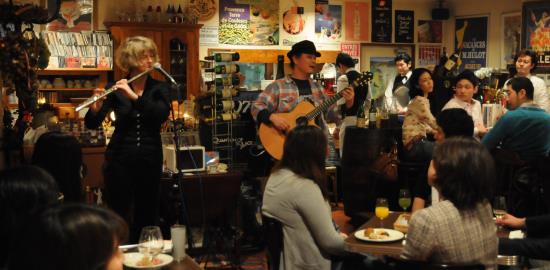 Brasserie Vendange in Kagoshima, so charmingly French ... it was like coming in to a wine bar in Bourgogne or another beautiful place in France. Even though the owner had a full schedule that week, he managed to book us up on that day in Kagoshima, and to invite a lot of people to eat French cuisine and drink tasteful wine while listening to our music. A really French evening, with absolutely exquisite wine.
26 March 2013 (Tuesday)  Chemin d'infini
Kumamoto-shi Cyuoku Shimo-dori 2-2-26  Tel 096-356-1774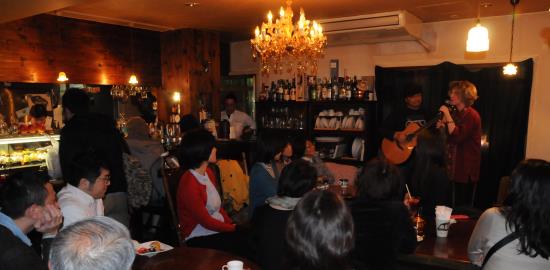 In Kumamoto, we played in Chemin d'Infini, a Retro-styled, European cake-bar, with fantastic huge cakes of all colours and tastes, with wine, drinks, cocktails. The French teacher and Kumamoto- French culture specialist, the well-known Rafiken (Raphael) invited his French students. The atmosphere was lovely. We could really talk about the songs and sing them quietly in a deep atmosphere of concentration. We discovered Kumamoto.
27 March 2013 (Wednesday)  Café Brassens
Sga-shi Gofuku Motomachi 2-24 north side of 656 place
Tel 0952 97 9378   https://www.facebook.com/cafebrassens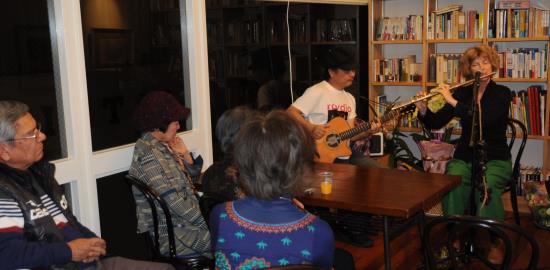 We played at Cafe Brassens, for the second time (we had played last December). Mr. and Ms are so active in the cultural field in Saga, and the cafe is still so new, only opened 5 months ago... still they managed to invite a lot of people to our concert, exhibit pictures and among these paintings of Beatrix, and serve wonderful and tasty European food ... the coffee was as good if not better than last time. Barbara was shown around in old Saga buildings around, while we prepared for the concert. She was so happy and told us all about it.
28 March 2013 (Thursday)  Karakuya  2go
Fukuoka-shi Cyuo-ku Watanabe-dori 4-2-22 2F  Tel 090 3463 1007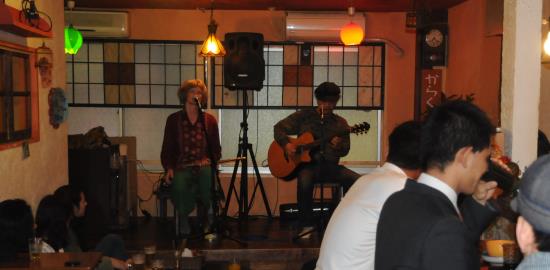 Coming from Okinawa and south Kyushu, we were happy to play in Fukuoka for half an audience of Okinawa music lovers and half of French people from the French Institute, at the Karakuya bar. We were introduced to Karakuya by the French Institute, and thank both of them very much. We were able to meet a couple of French-Corean artists who had just made mural work in Beppu in the Beppu Project. Very interesting evening.
29 March 2013 (Friday)  Café & Music BRICK HALL
Fukuoka-ken Kitakyusyu-shi Moji-ku Dairi honmachi 3-6-1 (Moji Akarenga place)
Tel 093 391 4411   http://www.brickhall.com/index.html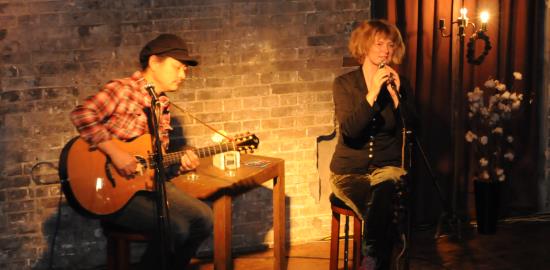 It was the 4th time we played in Brick Hall in Kita-Kyushu. When we take the boat from or to Osaka, we always pass the small town, and Brick Hall is just a must there. A wonderful building, a great live house, European Brick house from last century, and especially... a good sound. We really appreciated to play for the public there and with such a good sound system, stage and space. Thank you so much. We love it there. We stay at the same hotel at the sea-side. The people are great.
30 March 2013(Saturday)  On the Meimontaiyo Ferryboat
Shin Moji port - Osaka South port departure at 19:50 from Shin Moji port
  http://www.cityline.co.jp/index.html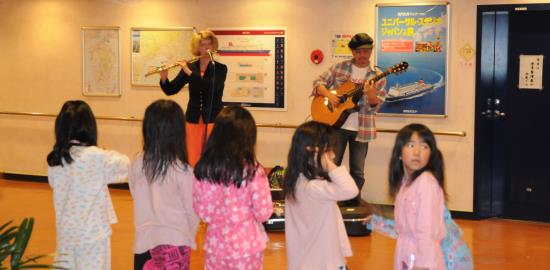 Here we played in the lobby of the ferry between Kita-Kyushu and Osaka. Every time we do, the boat doesn't change, but the people do... people pass by, but the ones who want to listen to our music stop and listen. Quite many did, and this time, who knows why, people far away were listening to.. did we have a stronger sound than before? People in pajama were standing or sitting, listening to us, and we could sell 4 CDs! We had fun, slept well and ate well.
31 March(Sunday)  Bonnaroo café
Kobe-shi Suma-ku Sumaura-dori 4-6-16 2F
Tel 078 737 2480   http://bonnaroocafe.com/about.html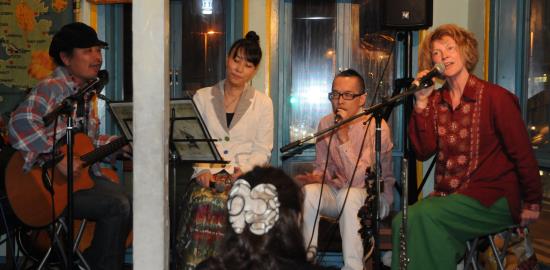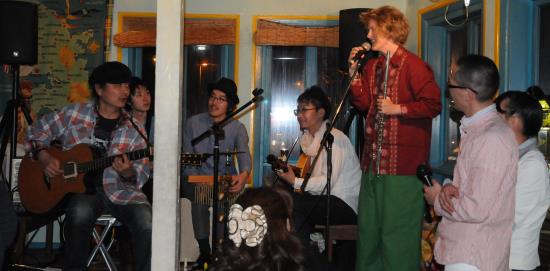 In Kobe at Bonnaroo Cafe... we arrived in an old house the owner had rebuilt himself, with the image of the Caribbean... which it really had the atmosphere of ! La Martinique, Jamaica etc... Bonnaroo means a lot of things in Creole language... the place was small but absolutely crowded. We played first and then with guests Misa and Yattchan we did two of our songs... it went fine, with Yattchan's mouth percussion and the Japanese version of our songs sung by Misa. Then the Morioka band played, with Zo san, Mr.Night Show, Morioka san and others ... we ended up playing in a session, all of us. Energy and positive fun!
1 April(Monday)  Ruins
Kyoto-shi Shimogyo-ku Inaricho 319 (100m South of Kawaramachi-Shijo, turn to east after Dayly store)
Tel 075 708 5853   http://profile.ameba.jp/green-dining-ruins/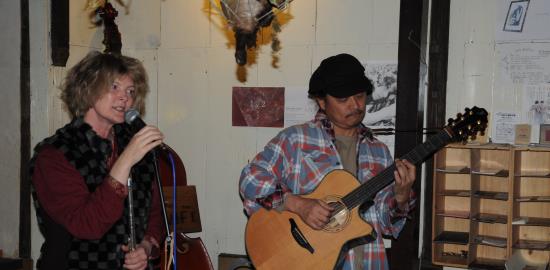 A beautiful old machiya downtown Kyoto, wood, art, music, plants... that is Ruins in Kyoto. We were introduced to it by the French Institute of Kansai, and the owner speaks wonderful French. We played there on the Monday evening, and we enjoyed meeting our old friends from Kyoto, and also new people from this Kiyamachi area. Barbara took pictures of small delicate things... so Kyoto. Arty space, good for original music ! Thank you !
3 April(wednesday)  Le Café
Kyoto-shi Sakyo-ku Yoshida Izumidono-cho 8 (South of Imadegawa-Higashioji)
Tel 075-761-2180   http://ifjk.jp/cafe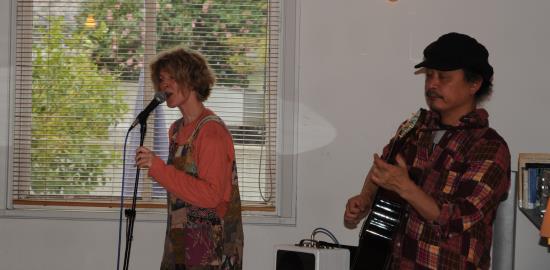 In the Cafe of the French institute... the sakura were blooming in the garden... we played in the afternoon in the - very French, said our friends - space... and some people really appreciated our music, which might have been helped by the fact that they knew the language ... The Cafe chefs were wonderfully kind to us. Beatrix appreciated a lot to play there, because she was back in time, when she lived in Kyoto years ago, and read half of the library's books because she was so home/French sick... Now she could sing there. And the sandwich made by Cedric was the best of Japan, Marki agreed.
4 April 2013 (Thursday)  Café Dufi 
Nagoya-shi Naka-ku Shin-sakae 3-17-11 Tel 052-263-6511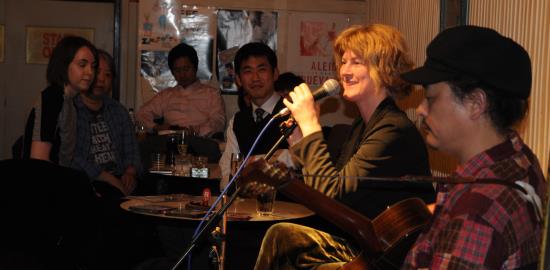 We usually start off in Nagoya when we go on our tour to the south-west... but this time Nagoya was the last stop of our tour... our Spring Tour 2013... We played in high spirits, going through the whole trip, from Okinawa to Kyushu to Kansai... for friends who had lived in Brussels, who lived in Nagoya, and new people... We are so happy to see our friends each time. Dufi is always so comfortable and relaxing... we love the space. Barbara was happy to be there again and meet her friends too. Dufi, we will be back, and thank you so much again.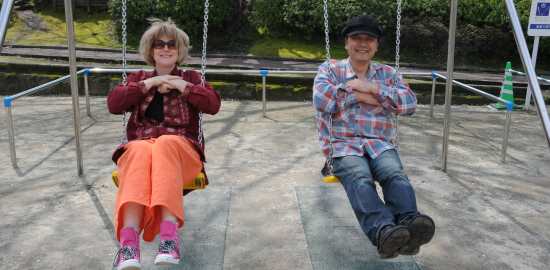 This was the 4th Bix&Marki Live Tour ... This time, we were supported by a lot of wonderful people. We thank you very much. We hope to bring our 4th CD on our next tour. We look forward to seeing you all again in the future,
Beatrix Fife and Marki Katagiri

4.Spring tour 2013