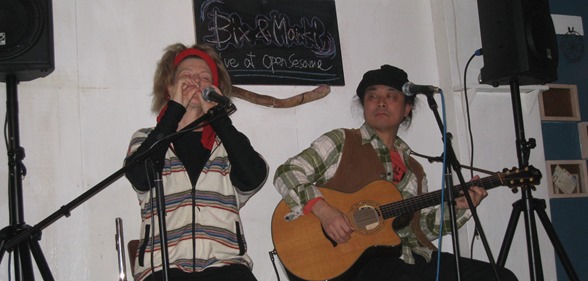 Bix & Marki Winter 2014 Tour Report
Winter 2014 Tour Report!
From the 7th to the 11th Feb.2014 we went to Gifu and to Aichi !
We played in Konan, Gifu, Nagoya and Anjo. In the cafés where we played, we were able to play our music, enjoy good meals, good atmosphere and meet very nice people. Thank you so much for everyone who supported us, the organizers and café managers, and the audience who came to see us !
Friday 7 February 2014  Café Remember
Aichi-ken Kounan-shi Aka douji-cho Fujimiya 12
Tel 0587 96 7021   http://cafe-remember.jimdo.com/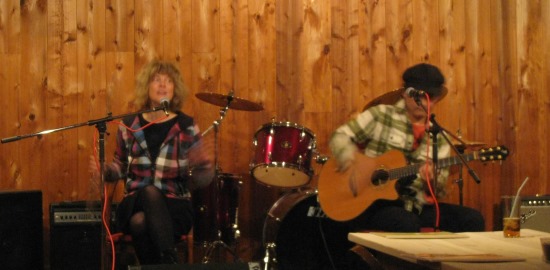 This new café seems to be designed for music-lovers. Thanks to wooden walls, ceiling and flooring, beautiful wooden tables and chairs, the sound of our music was soft and round. There is a stage for live events on the second floor. We were the first group to play there. The audience – of all ages - could enjoy a meal, a cake or a coffee while listening, and the music was sent downstairs through speakers. The food was good and .. French! We loved the Café, and we will be back !
Saturday 8 February  energy café OPEN SESAME 
Gifu-shi Oritate 785-1   Tel 058-234-3505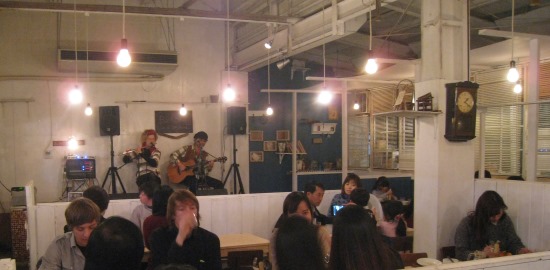 Gifu city is a beautiful town, surrounded by mountains. It was snowing on that day. There was a Crepe festival party in the afternoon, in a café downtown called All Round, organized by GIFRANCE, the French-Japanese association of Gifu, and we played some songs there. Great atmosphere, lovely people, good beignets and crepes made by Gilles Guerrin, who is a great organizer of French events in Gifu and the founder of Gifrance. In the evening, Open Sesame was full of people, thanks to Gilles and his friends. People who were at the Crepe party and others came too. We had a great time and could meet wonderful and warmhearted people. Some of them work hard in the field of cultural exchange and society.
Monday afternoon 10 February 2014   atelier feliz
Gifu-ken Motosu-shi Bussyouji 423-2
Tel 058 322 3558   https://www.facebook.com/Atorieferisu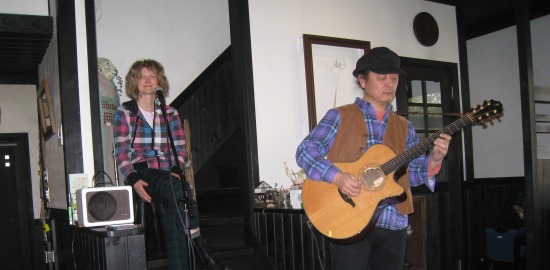 We arrived in the afternoon in Café Feliz, where a beautiful exhibition of handmade jewelry was taking place. We played our tunes and … one lady had never heard the French language and singing "live" before, she said she was so happy for that. Thank you Norika san, we will come again !
Monday evening 10 February 2014  Café Dufi
Nagoya-shi Naka-ku Shinsakae 3-17-11
Tel 052 263 6511   http://cafedufi.com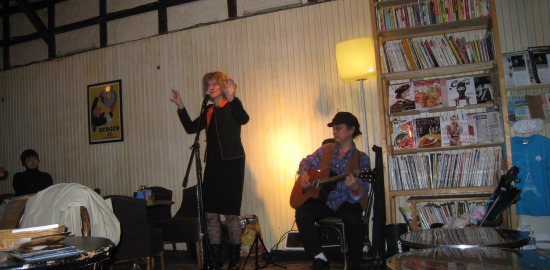 We arrived in Nagoya at around 6 pm, went straight to the hotel, and then walked over to Café Dufi, where we usually play when we come to Nagoya. Friends were there, and also people we met for the first time. Some had heard us somewhere else last time. We had a great time there, this time too. Thank you, Dufi.
Tuesday 11 February 2014  Cafe B+   
Aichi-ken Anjou-shi Shinmei-cho 16-13
Tel 0566-78-1147   http://cafeb.client.jp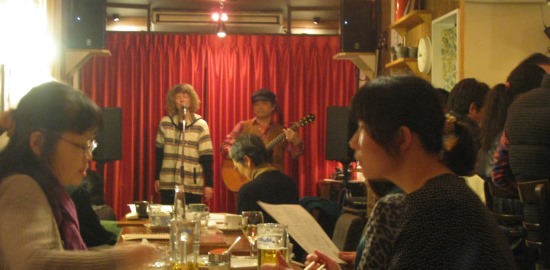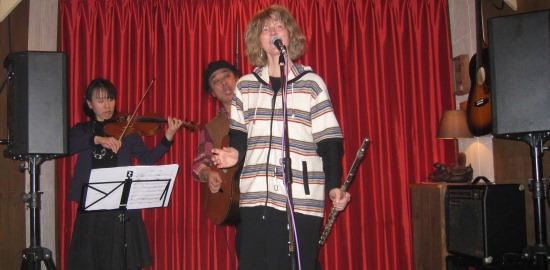 We arrived in the morning in Anjo city, and after a great lunch made by our friend in her apartment, we went with her, to rehearse the 3 songs that she was going to play with us in the evening, on her violin. The rehearsal was done in a cultural center, in a sound proof room, and we played for 3 hours non-stop. Marki had written the violin part and her playing gave a new dimension to ours, very contemporary and interesting. In the evening, the café was full of people, friends, clients of the café, people who came to see us for the first time.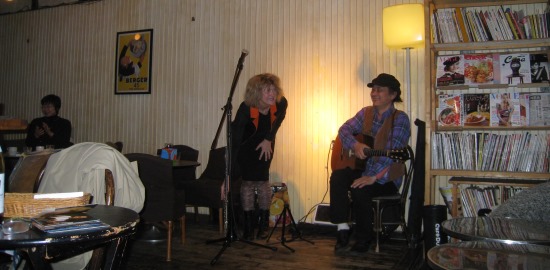 It was the 7th Bix&Marki Tour. Thank you very much for following us on our musical journey. We thank everyone who has helped us bring our music to atmospheres, places and people, understanding it and bringing it further. We are planning new trips, to places we have been before and not been before. We hope to see you in the future !

7. Winter Tour 2014