Bix & Marki  End of 2019~20 Tour Report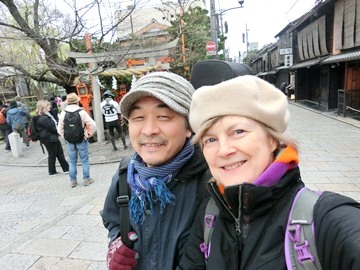 2019
22 Dec Shizuoka
23 Dec Hamamatsu
24 Dec Toyohashi
25 Dec Anjo
26 Dec Nagoya
27 Dec Gifu
28 Dec Kyoto
29 Dec kobe
2020
3 Jan Koga

This Winter Tour took us this year too to Kansai. The weather was nice and we had a great time in places which for the most part we knew already from before… Around Christmas time we added a drawing activity and a Christmas story written by Bix to the concert. We also enjoyed playing with other musicians at the end of the year and the beginning of the New year, and at each place loved to meet old and new friends.
Sunday 22 December 2019  espace éclatant
Shizuoka-shi Takajou 2 chome 10-25 Oniwa apartment
Tel 054-260-4613   https://www.facebook.com/espaceeclant/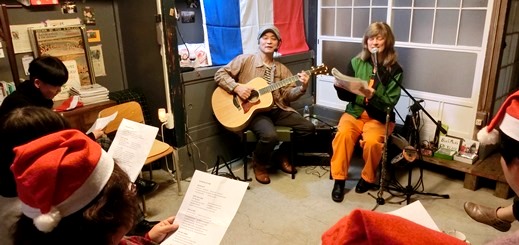 This sweet and lovely French school Espace Eclatant is located in the 'French-style' district of downtown Shizuoka. We were already familiar with it and with some of the students and teachers… They welcomed us with Rosé wine, which they will start importing from France this year. In addition to our songs, we sang Christmas songs together and everyone in the audience made a pencil drawing of the main issues she or he had encountered in 2019 and imagined for 2020. Bix read a little story about the general strike taking place in France to bring in some reality, like the troubadours used to do before…
Monday 23 December 2019  IGUZIONE cafe
Hamamatsu-shi Naka-ku Takamachi 200-25  Tel 053-454-3131
https://www.facebook.com/iguzione.cafe.hamamatsu/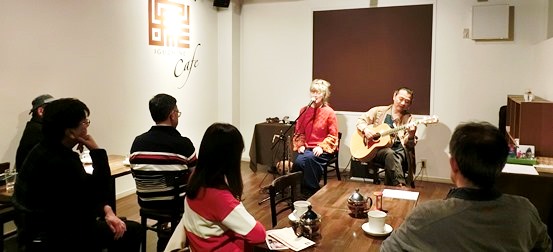 Iguzione Cafe is culturally very active and a wonderful place in Hamamatsu. It was our second time there, we had played there last year at around the same date. It was a great pleasure to also do our drawing workshop and storytelling which was basically a reminder that in families in France people talk about politics and society even during Christmas time, and that exchanging ideas and trying to keep the traditional values is very important, being very different in Japan… The drawing was a connection to hidden emotions and expression through words… which is something we want to share through our music too.
Tuesday 24 December 2019  café & gâteaux Knohd
Toyohashi-shi Ekimae-oodori 1-111  Tel 070-6533-6664
http://knohd.jp/   https://www.facebook.com/knohd2012/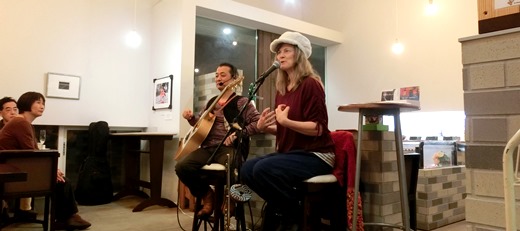 Knohd is a cafe where people can order cakes with a drawing on it ! Here we are on Christmas Eve. It was the first time for many to hear the French language, we were happy to introduce it...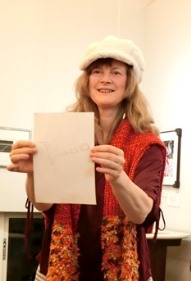 We did the same activities as the previous two days at this café, and noticed how much people reacted positively to drawing their inner feelings in an abstract way and then talk about them through the drawing.





Wednesday 25 December 2019  Cafe B+
Aichi-ken Anjou-shi Shinmei-cho 16-13   Tel 0566-78-1147
http://cafeb.client.jp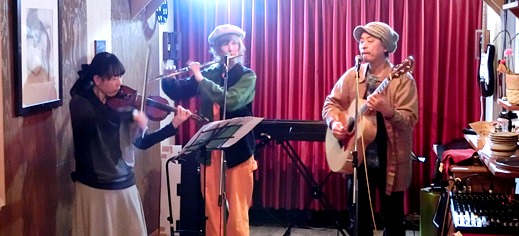 Our friend violonist Miwako lives not far from café B, where the owners are musicians. She had played with us before and we felt all quite confident when we played 2 tunes of ours with her, together, in the first set. Marki had arranged the violin parts and it really gave another dimension to the interpretation, especially on the Spanish feel of La Pluie Sèche!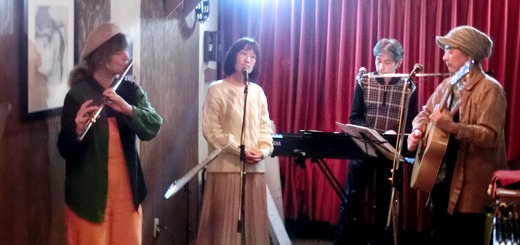 Vocalist Ayako and keyboardist Carlos joined us on 4 tunes (two of ours and two Japanese songs that they chose) in the second set. Ayako's soft voice and Carlos' mysterious piano sound fit the atmosphere ! Playing together with others is such a pleasure for us.
Thursday 26 December 2019  Cafe Dufi 
Nagoya-shi Naka-ku Shin-sakae 3-17-11   Tel 052 263 6511
http://cafedufi.com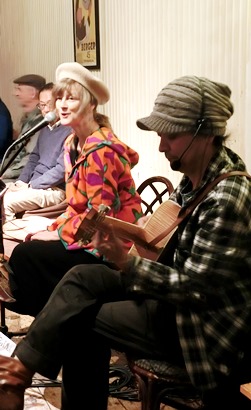 We have so often performed in this wonderful bohemian Café Dufi, and our friends from Nagoya almost always come, like they did now !

Wonderful atmosphere. Everybody chatting before, after, in between the songs…

Thank you so much to you all !!





Friday 27 December 2019  energy cafe OPEN SESAME
Gifu-shi Oritate 785-1   Tel 058-234-3505
http://opensesame-gifu.jimdo.com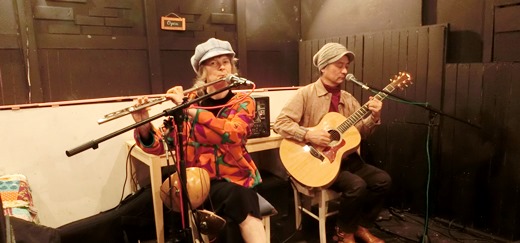 We had been here so many times that we immediately felt at home in Gifu. The weather was milder than last Winter. The stage in Open Sesame is just ready for musicians to play. The staff is superkind. Thank you to O. S. and to our Gifu friends who always support us !!!
Saturday 28 December 2019  Bistrot La Boucle
Kyoto-shi Nakagyo-ku Daimonji-cho 340-1   Tel 075-708-7065
https://www.facebook.com/LaBoucle.Kyoto/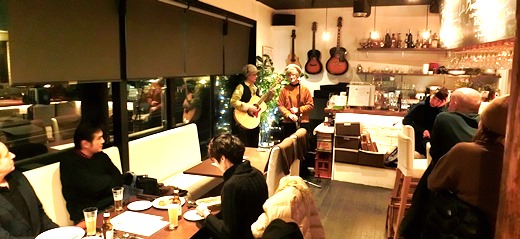 Here in downtown Kyoto, people passing by could see us from the window and came in, and our friends suddenly showed up... the wooden panels and floor make our sound warm and round. There was a French waiter working there and the Master spoke a lot French with him (and with us) because he didn't know so much Japanese. We had a wonderful evening.
Sunday 29 Decenber 2019 Bistrot Café de Paris
Kobe-shi Cyuou-ku Yamamoto-dori 1-7-21   Tel 078-241-9448
http://cafe-de-paris.jp/
https://www.facebook.com/bistrotcafedeparis/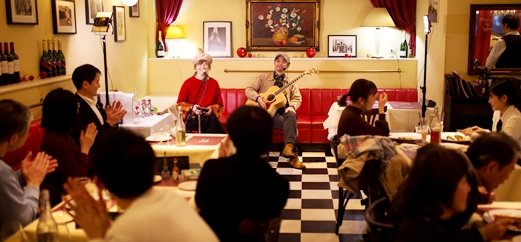 photo : Kaori Tama
Marki was not feeling so well, but we managed ! That is the thing when you travel and play: you are not always in good shape and just have to go for it. Friends and new people came and Café de Paris was welcoming as always. It was our last concert of 2019. We always feel welcome in Café de Paris. Thank you to you all !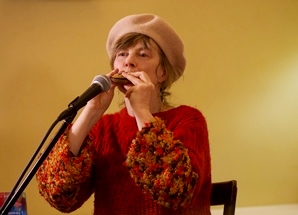 photo : Kaori Tama
Bix plays her little Peruvian ocarina
Friday 3 January 2020  nora café
Shiga-ken Koga-shi Minakuchi-cho Sakoudo 292-2
Tel 0748-62-1157   https://www.facebook.com/noracafe.noracafe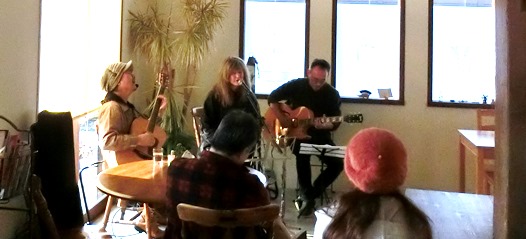 The owner of Nora Café played 3 tunes with us, our Oiseaux qui chantent, and two standards , with a Bix&Marki rhythmic arrangement. The café is filled with music and positive vibes. The audience was marvelous, some the same as last year, some new ones. One of them told us that he really felt that his brain got stimulated by our songs (the right-half it seems) which doesn't surprise us. It is what we want to do, make people imagine images and connect sounds to their emotions. We hopefully added some more good vibrations to this cosy space in the middle of the rice fields !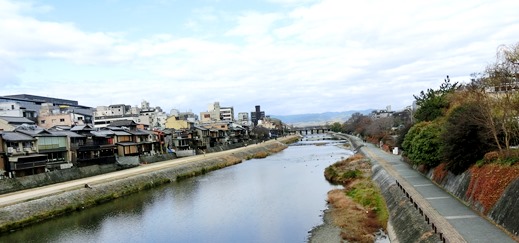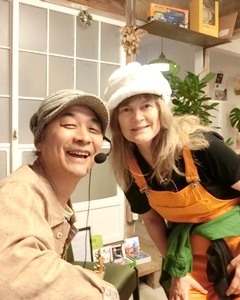 We stayed in Kyoto for a few days and took a picture of the Kamogawa river, beautiful and unchanged from the time we lived here.
Bix&Marki actually met in Kyoto many years ago. There are more tourists than before, which has good and less good aspects, something the inhabitants have to deal with.

This time, during our tour, we felt more than ever the link between our music and the world of visual images and imagination, the world of emotions and feelings and the one of performing for people. We always want to develop more !

For us musicians, living in Tokyo, we have our issues too, having to find how to deal with our lives. Thank you all for following and supporting us !

25.End of 2019~20 Tour