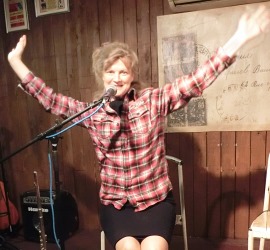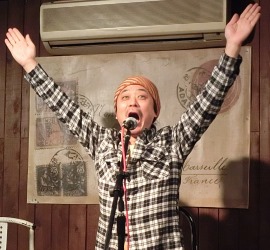 Bix & Marki  End of 2014~15 Tour Report
We left Tokyo on Christmas morning, in the End-of-the-year and Christmas rush. Especially Shibuya, but also Shinjuku were really tough to change trains at, with all our luggage, mike stand, amp, guitar, bags etc. but as soon as we got out of the city, sitting in the Express train for Nagano, we felt again the good feeling of touring. We started our first concert in Matsumoto, then went to Nagoya, Yokkaichi, Gifu, Kyoto and came back to Tokyo via Shiga, in the New Year. A great – warm-hearted – tour in the snow and Winter cold !
Thursday 25 December 2014  Au Crieur de vin
Nagano-ken Matsumoto-shi Fukasi 1-2-11 Syowa bld 1F
Tel 02 63 37 19 66   http://crieur-japon.com/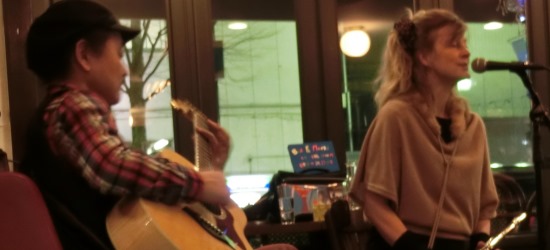 Matsumoto. Snow in the air. People walked by, looked inside the place and came in, even at 11 pm in the evening. Au Crieur de Vin seemed even more pleasant, relaxed, and the food was even more delicious than the 2 other times we had been there. We played 4 sets, almost all our songs (including the new ones under way) during 4 hours, and that was a good start to our End-of-the-Year tour. We spoke to a couple who were living in Azumino, a small town near Matsumoto, where Bx'flute had actually been made. That made us want to discover more of Nagano! Thank you, Au Crieur de Vin, staff and clients, for being so kind ! We enjoyed the evening and will be back.
Friday 26 December 2014 Cafe&Bar Perms
Nagoya-shi Higashi-ku Izumi 1-23-36
Tel 052 962 8878 http://perms.jp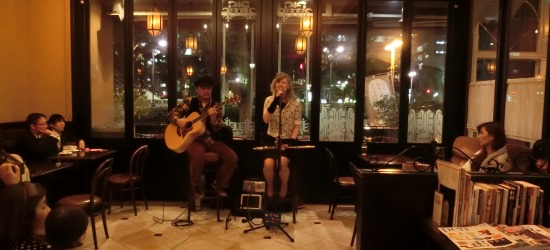 We took the express train from Matsumoto to Nagoya, through the Nagano mountains, beautiful snowy landscape, blue sky and sunshine all the way. We thought we would want one day to play in these small villages we passed… Friends came to see us play in Perms, and there were a lot of people in the evening. Perms has a high ceiling and a kind of south-American retro style in its decoration… with people talking and our sound filling the room, we felt like… being in a café down-town Buenos Aires (without having ever been there...hahaha). Perms is actually downtown Nagoya. We had played there two and half years ago. And … we got a fantastic present from one person who had been coming to our concerts in Nagoya since the very beginning when we started 4 years ago : a hand made manga-book, self-made, self-drawn, self-printed. A beautiful gift and a wonderful work of art.
Saturday 27 December 2014  Café SIESTA
Gifu-shi Yanastu-cho Kitatsuka 4-33
Tel 058 388 5972   http://www.cafecafesiesta.info/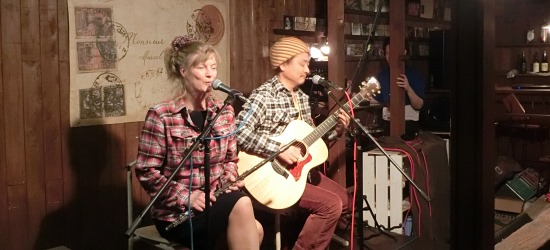 We had lunch with friends in Gifu, this day was another beautiful, cold but clear Winter day. We then went to Siesta : there is a very good sound system, a stage, mics and amplifiers so that people downstairs can hear us playing upstairs. Music is actually meant to be played there, while people eat, drink, watch and listen! Members of Gifrance (the French association of Gifu) came to the concert and it was a wonderful evening, together with the fact that we met interesting new people… Thank you to all of you and to Siesta !!
Sunday 28 December 2014  Vélo
Mie-ken Yokkaichi-shi Suwa sakae-cho 16-3 Osada bld 2F
Tel 059 356 1545   http://velo.p2.weblife.me/index.html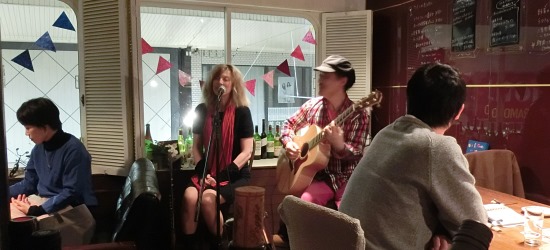 It was the 2nd time we played in this small French restaurant and cave à vins in Yokkaichi and we had actually played there exactly on the same date last year. It was like having a cushion of time in between the two concerts. The atmosphere was intimate and warm, people listened the whole evening and wanted more at the end, we felt almost as one. It was really nice. Thank you !!
Monday 29 December 2014  atelier feliz
Gifu-ken Motosu-shi Bussyouji 423-2
Tel 058 322 3558   https://www.facebook.com/Atorieferisu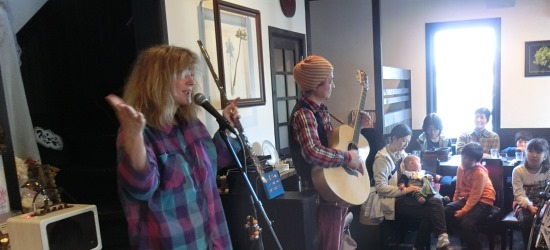 We got incredibly surprised when we arrived to our lunch-time concert at Feliz: there were so many children. It was magic. Mums with babies, our Bix&Marki friends with their children or grand-children, toddlers, 6 year-olds, 10 year-olds, 16… some fell asleep, some listened to us all the time, some played games during the concert, … our music got a new energy ! To play for children and mums was certainly a GOOD experience, definitely to do again… Thank you!
Tuesday 30 December 2014  Asian dining cafe Mew'z
Kyoto-shi Nakagyo-ku tramchi-nijo agaru yohoji-cho 717-1
Tel 075-212-2911 http://mewzcafe.com/index.html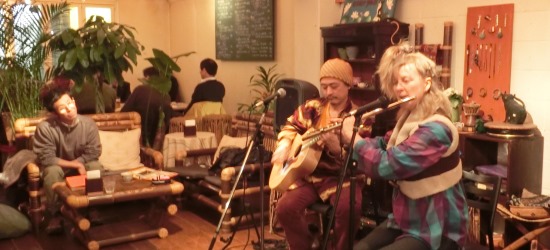 In Teramachi-Nijo, the part of town with boutiques and studios of paper, fabric, bamboo works.. there is this South East Asian cuisine café with decorations from Vietnam and South-East Asia. There is also a space there for musicians : mics, amplifiers etc. Just before we played, they played newer French cds. We felt really welcome. The end of the year is usually busy with year-end parties for companies and associations, and there was one there, at the same time as we played. One person in the party had heard about us years ago from a friend, and we found out it was a common friend, who passed away a few years ago. That was such a coincidence. Also, another coincidence, one fellow French teacher came to listen to us. She happened to have the same name as Bx'flute. She decided to start to learn jazz flute after listening to our music… This was our last concert of 2014. Thank you all !!
Sunday 4 January 2015  nora café
Shiga-ken Koga-shi Minakuchi-cho Sakoudo 292-2
Tel  0748-62-1157 https://www.facebook.com/noracafe.noracafe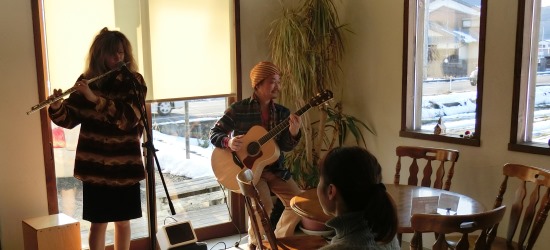 Our friends in Shiga took us to the café by car, everyone goes around there by car… it is in the middle of rice fields ! What a nice place. The owner loves and plays jazz music himself. The sound is wonderful, warm, probably due to the round and high ceiling …. The audience was either neighbors or people passing by on the road … It was very nice, as a first concert in 2015 ! Thank you Café Nora !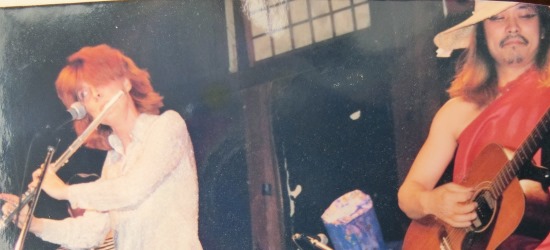 During this tour, we thought a lot about all our concerts and experiences of 2014 and talked together about our plans for 2015 : new songs, new ideas… We missed our shinkansen train in Kyoto, to go back to Tokyo, on the morning of the 5th… we think it meant not to be late and hang out too much in 2015, it said work and continue ! …. We met again many wonderful people, new ones, ones we had met before, it was great. Thank you for all your support, everyone who came to see us, everyone who read us on the internet, music lovers and café owners… Let music be everywhere !
PS: A friend who came to our concert at Mew'z cafe in Kyoto found a picture at her appartment. That's the picture of us playing in another band at TAKUTAKU in Kyoto,1997. Time passes very fast...

10.End of 2014~15 Tour