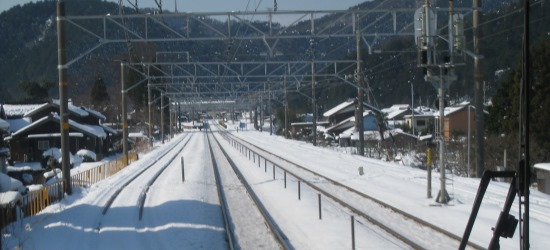 Bix & Marki   Dec 2013 Petit Tour Report
We went on a small tour at the end of the year, from the 27th to the 29th of December 2013, to Matsumoto (Nagano), Yokkaichi(Mie) and Gifu, on the way to Kyoto. There was snow in the mountains, and we enjoyed taking the express train"Azusa nr.13" in the beautiful landscape of Nagano Prefecture. Then we took the train from Matsumoto to Yokkaichi, then were driven by our actor and actress friends from Tokai Geijutsu Academy to Gifu: white mountains and blue sky around us. We opened the New Year playing a jazz session with friends-musicians in Kyoto.
Thank you to all of you.
27 Dec. 2013(Friday)  Au Crieur de vin
Nagano-ken Matsumoto-shi Fukashi 1-2-11 Syowa bld 1F
Tel 02 63 37 19 66   http://crieur-japon.com/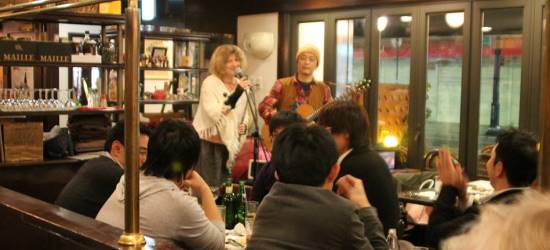 In Matsumoto we played at Le Crieur de Vin, in the centre of the city. We felt again, like we did last time, that stepping into the restaurant was like stepping into a Brasserie in France. Good food, good wine, laughs, layed back feeling and people coming in at any time, even later in the evening. We met wonderful people, some of them took very nice pictures of us. We are thankful for that! Outside, the air was cold and pure mountain air. We played 3 sets of 40 min and had a great contact with people. We went to visit the beautiful Matsumoto Castle before the concert, and enjoyed the beautiful view from the top of the tower. Matsumoto is a beautiful city.
28 Dec.(Saturday)  Vélo 
Mie-ken Yokkaichi-shi Suwasakae-machi 16-3 2F
Tel 059 356 1545   http://velo.p2.weblife.me/index.html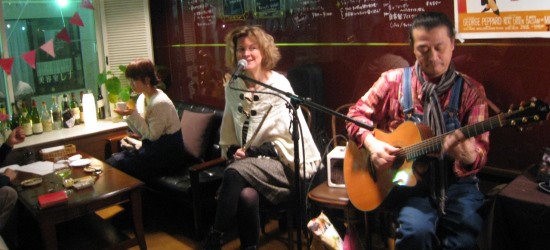 It was our first time there, and actually the couple running it had just opened it 6 months before. We were all happy to meet, we played and the restaurant was fully booked ! We did two sets, and had some food, which was very tasty. It was a pleasure to play there, because the wood and walls gave back a good sound around. It was situated in one of the old shopping arcades of Yokkaichi. It seemed that the arcade was starting to become hip there ! And so was the Vélo ! Warmhearted.
29 Dec.(Sunday)  Café SIESTA
Gifi-shi Yanaizu-cho Kitazuka 4-33
Tel 058 388 5972   http://www.cafecafesiesta.info/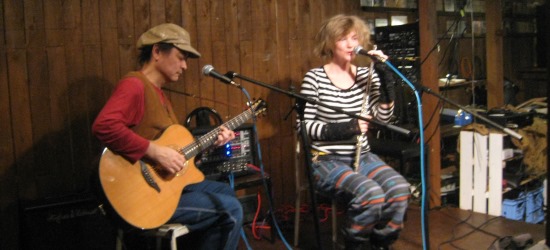 We had played in Siesta once before. It was very nice this time too, the stage upstairs, with people listening to us, clients downstairs could hear us through the speakers. There were young couples and also French speakers from the 『 GIFRANCE 』 association. We spoke French and met new people, some of them asked us about the music and the instruments, which we enjoyed a lot.
3 Jan.(Friday) Bourbon House Lucifer
Kyoto-shi Sakyo-ku Shimogamo Nishibayashi-cho 7-1
Casa shimogamo 2F   Tel 075‐702‐3537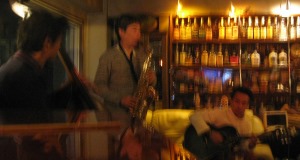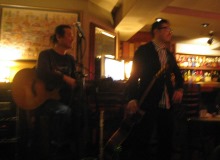 We started our musical year on the 3rd of January in Bourbon House Lucifer, in Kyoto. It is located near Shimogamo Shrine, on Shimogamo-hon dori, and it used to be the place where Marki always played alone or with jazz musicians when he was in Kyoto. We played jazz standards, bossanova and our songs. There was a saxophone, double bass, guitars, percussion, flute and voice… we all felt how music can put people together… it was such a nice way to start the new year.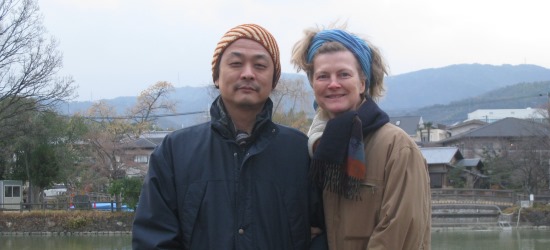 We wish you a very happy New Year... This year, we plan to make a new CD, with new songs, and to continue playing in many places in Japan. Maybe we will soon meet again!
Thank you for reading us.
Bix&Marki

7.Petit tour Dec. 2013